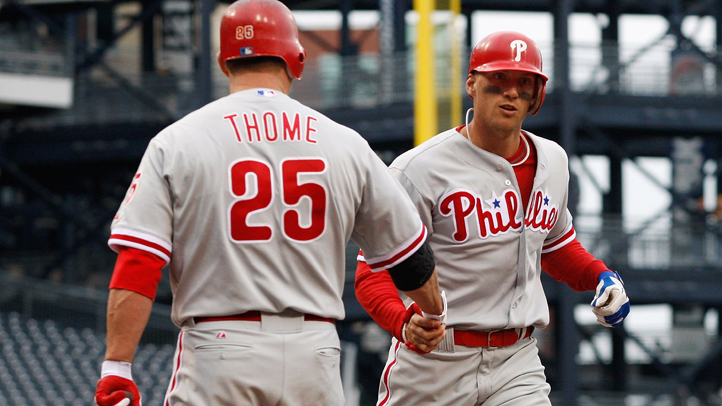 The Phillies' ineptitude against their in-state rivals kept up over the weekend, as they dropped the final two of the series against the Pittsburgh Pirates to start the season with a 1-2 record. Despite getting stellar performances from their rotation (Roy Halladay, Cliff Lee and Vance Worley allowed a combined two earned runs in 20 innings), the bullpen couldn't hold the leads and the offense failed to put any more runs up on the board in the late innings.

In light of this, some of the fans seem to be getting concerned about the Phillies, at least if my Twitter feed is any indication. That consternation is perhaps justified, because a pair of lifeless losses against the Pirates certainly doesn't bode well for the rest of the season. On one hand, it's never comforting to see your team lose to a not-so-good Pittsburgh team, but on the other hand, baseball is a fickle mistress, and goofy things happen sometimes despite a team's best efforts.

And with Monday's home opener, I think it's important to remember one crucial thing: It's just three games. It's just three games. It's just three games.

It's a cliché, but baseball is a marathon, not a sprint, and what happens in the first week of April typically doesn't make or break the season, so getting worked up over a 1-2 start is a bit over-reactionary.

While it would have been great to exit the first series of the season with a 3-0 – or even a 2-1 – record, the fact that they lost the first series of the 2012 season isn't the end of the world, and it's important to keep that in mind when tough losses like this happen. And they will happen – a lot.

So deep breaths, everyone. It's a long way until October.