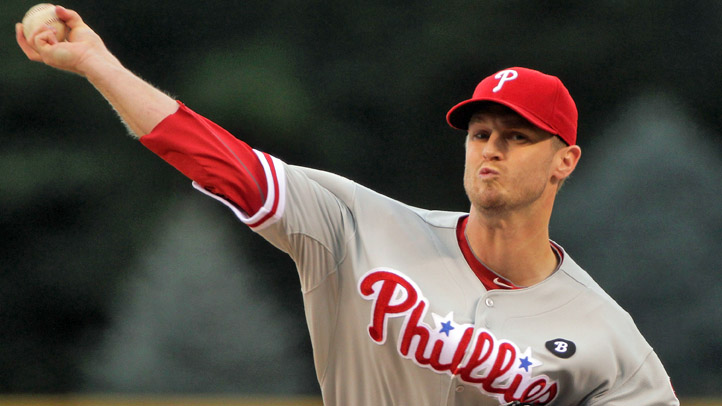 Kyle Kendrick made the most of what would likely be his last start for a while as he pitched eight shutout innings in the Phillies 5-0 win at Colorado Tuesday night.
Kendrick (6-5) put up season highs in innings pitched (8), strikeouts (7) and pitches (117) while keeping Rockies hitters off balance all night. He only walked two and the only extra-base hit he allowed was a first inning Dexter Fowler double. After that Kendrick cruised striking out three of the last four hitters he faced.
David Herndon relieved Kendrick with a 1-2-3 ninth inning to close out the shutout.
Despite the great performance Kendrick is likely headed back to the bullpen when Roy Oswalt returns from the disabled list this weekend in San Fran. But for one night, Kendrick looked like one of the Phillies four-plus aces.
All the run support he needed came in the first. Jimmy Rollins walked and Shane Victorino moved him to third with a single off Rockies starter Aaron Cook (2-6). Chase Utley knocked home Rollins with a ground out and Hunter Pence brought home Victorino to make it 2-0.
Of course chicks dig the long ball and Ryan Howard supplied a couple of solo shots in the Mile High City. He led off the fourth with an upper deck blast to right and then capped his night with a blast to left (the Big Piece's 23rd of the season) in the eighth.
The win made the Phillies (70-39) the first team in baseball to get to 70 wins and extended their lead in National League East to eight games over the Braves who lost.
The Phightins go for the sweep Wednesday afternoon when ace Roy Halladay (13-4, 2.44 ERA) takes the hill against right Jason Hammel (6-10, 4.65).