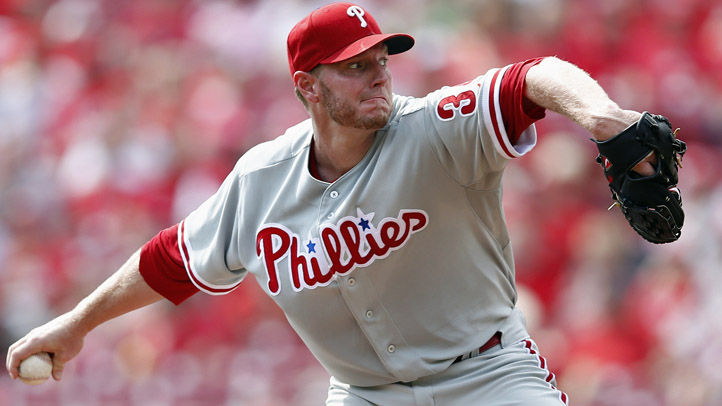 It's a New Year, and that means -- before too long -- a new baseball season (only 42 days until pitchers and catcher report).
Ballplayers, like everyone else, have things that they need to improve upon when the calendar turns over to January. Hopefully, that means getting back to the playoffs after they missed them for the first time since 2006.
Here are some of the New Year's Resolutions from some of your favorite Phillies...
I, Ryan Howard, resolve to be comfortable with getting platooned against left-handed starting pitchers.

I, Domonic Brown, will get enough at bats in one season to prove that, yes, I can actually play baseball at the Major League level.

I, Carlos Ruiz, promise to read all of the ingredients from now on.

I, Chase Utley, resolve to take a day off every now and again in effort to preserve my talent and my career.

I, Roy Halladay, will not use the "trust me, I'm a Doctor" excuse when the manager asks if my arm is feeling OK.

I, Cliff Lee, will try to win a game before July.

I, Michael Young, will do the best job I can, but will nonetheless be disliked by most fans.

I, Jimmy Rollins, will hustle out every single ball that I hit. Even pop ups to the second baseman that are sure to be caught.

I, Ben Revere, will try every cheesesteak joint in the city before Memorial Day.

I, Darin Ruf, will try not to embarrass myself too much in left field.

I, Mike Adams, will do my best to ensure the fans that I am, in fact, not Chad Qualls.

I, Cole Hamels, will not let my new contract go to my head, even though it's more or less proof that I'm totally awesome.

I, Kyle Kendrick, will finally be an effective starting pitcher over 200 innings.

I, Phillippe Aumont, will continue to be the one bit of good to come out of the ghastly Cliff Lee-to-Seattle trade.

I, John Lannan, promises to stay at least 85 feet away from Chase Utley at all times.

I, John Mayberry, will try to be -- at the very least -- a passable hitter against right-handed pitchers.

I, Antonio Bastardo, will be just a little less wild.

I, Jonathan Papelbon, will take no more than eight seconds in between pitches.