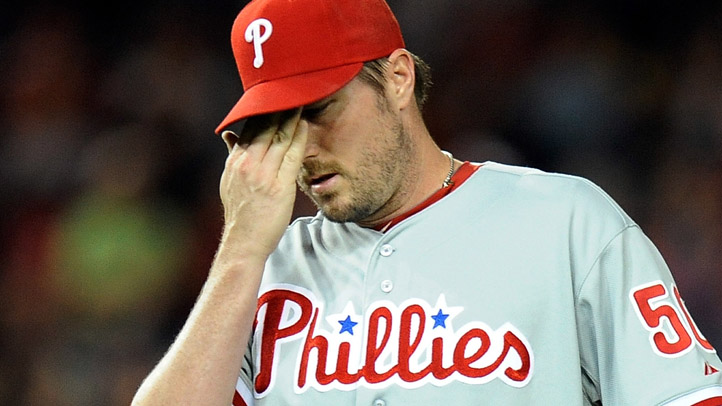 When the Phillies signed relief pitcher Chad Qualls prior to the 2012 season, it was nothing more than a low-risk, high-reward move -- you hope to extract the max amount of value from a player who is otherwise average.
In Ruben Amaro Jr.'s defense, it was a solid signing. With a salary just north of $1 million, Qualls wouldn't even be noticed on the payroll, and with a one-year deal, any harm that he does to the bullpen could be erased when the season ends. It's not like he'd be owed a ton of salary if he stopped being effective. Plus, Qualls has a track record that indicates that he could be a valuable asset to the bullpen -- it was the kind of signing that could really only benefit the Phillies.
Through the first month of the season, it has. And not just because we can have all sorts of fun with his name ("Charlie just picked up the dugout phone and made a Quall to the bullpen" or "Chad just left the opposing hitters hanging!") But in seriousness, Qualls was pretty solid in the early goings. In his first eight appearances, he held opponents to a .503 OPS, with an ERA just above 1.00, as he took stepped up as the primary eighth-inning guy in the back end of the bullpen.
Since then, it's been rough for ol' Chad. In his last four appearances, he's got an ERA north of 10, and opposing hitters have a 1.504 OPS against him. And in three of those four games, he's given up a lead in the late innings. The Phillies lost two of those games.
In truth, it's an awfully small sample size from which to draw any sort of reasonable conclusion. The first set of numbers were from less than nine innings of work, and the second set was from just above four. And because of that, it's tough to know exactly what to think of Qualls. Maybe after another few weeks, after he has more appearances and innings under his belt, will we be able to accurately critique the right-hander as we try to figure out what else he will bring to the table in 2012.
For now, the Phillies are going to stick with him despite the struggles and the up and down innings. Qualls is still one of the better options in the pen not named Jonathan Papelbon. Hopefully this is just a hiccup. And if you ask Chad, it is, as he thinks he has figured out his recent struggles, according to Mandy Housenick of the Allentown Morning Call:
"There's a little tiny difference at the top of my delivery," the right-hander said. "I think I'm leaking a little bit toward the plate, which kind of causes my arm to drag and my ball, instead of sinking as much as it was in the beginning of the year, it kind of stayed elevated a little bit.

"It's a real easy fix for me."
Hopefully, it will be that easy. The 'pen has been one of the biggest points of contention for the Phillies this season, and if not for their struggles, this team would be in a much better position in the second week of May.