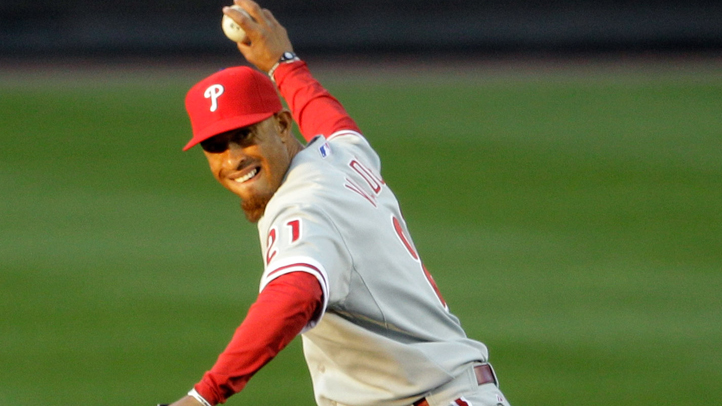 One of the Phillies most beloved bench players was sent out of town as the Phillies traded Wilson Valdez to the Cincinnati Reds for left-handed relief pitcher Jeremy Horst.
General Manager Ruben Amaro, Jr. announced the move Wednesday afternoon.
Every Phillies fan will forever remember the image of Valdez stepping in from the infield to pitch a single scoreless 19th inning in a win over the Reds last May. that moment earned him "fan favorite" status and made some fans forget his shortfalls (little power, slow runner).
Well that inning might have impressed the Reds enough to want and acquire Valdez -- well that, or they were simply looking for a veteran who can play great defense at second, third or shortstop.
The 33-year-old utilityman, who the Phillies inked to a $930,000 1-year contract just last week, batted .254 with five homers, 30 doubles, seven triples, 10 steals, 65 RBIs and 76 runs in 210 games over two seasons with the Phils.
With Valdez gone, Michael Martinez and Ty Wigginton will likely be relied upon to handle backup duties in the infield and as right-handed pinch-hitters. (Martinez is a switch hitter)
Horst, 26, went 0-0 with a 2.93 ERA for Cincy last season. He was a career 23-29 with a 3.08 ERA and six saves in 161 games. Last season at Triple-A Louisville he was 1-4 with a 2.81 ERA while keeping batters to a .219 average while pitching 51.1 innings in 36 appearances.
Horst will get a non-roster invite to Clearwater will he will likely get a chance to compete for the final spot in the Phillies bullpen.
At least the Phillies won't be losing a goatee -- Valdez had a memorable one -- in the deal as it appears that Horst has a goatee in his official head shot.