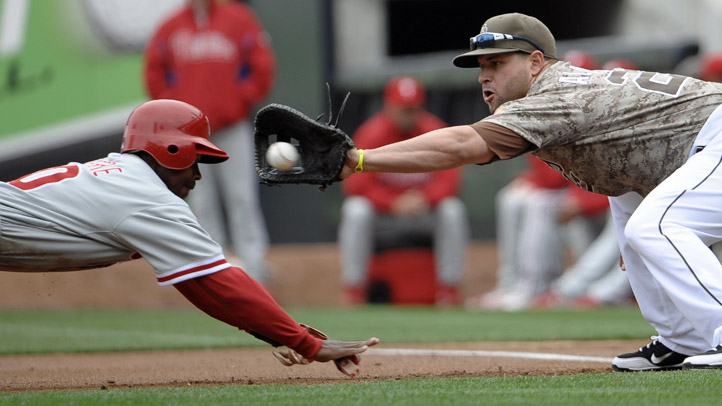 The Phillies put forth another ho-hum effort as they lost 6-1 in San Diego.
A night after losing 5-1 to the worst team in the majors, an undisciplined effort including three errors, misplayed balls and even a picked off base runner left the Phillies at 7-9 on the season.
Joe Blanton (1-3) threw just 78 pitches in six innings while allowing all six runs (only three were earned) while allowing seven hits and two walks while striking out two.
Blanton didn't get much help from his defense including a missed diving catch by Hunter Pence and a throwing error by Jim Thome.
Talking of Thome, the aged slugger got a rare start at first base and answered with two strikeouts – both times with runners in scoring position. He did single in the eighth though to improve his average to .125.
The Phillies only run came in the second when Carlos Ruiz scored on a Juan Pierre single that was misplayed by Padres right fielder Will Venable. Pierre, despite being picked off first base after a leadoff walk to start the game, led the Phils with three hits to improve his average to .326.
The Phillies will try to get back on the winning track Monday night when they send Kyle Kendrick (0-0) to the mound in Arizona.