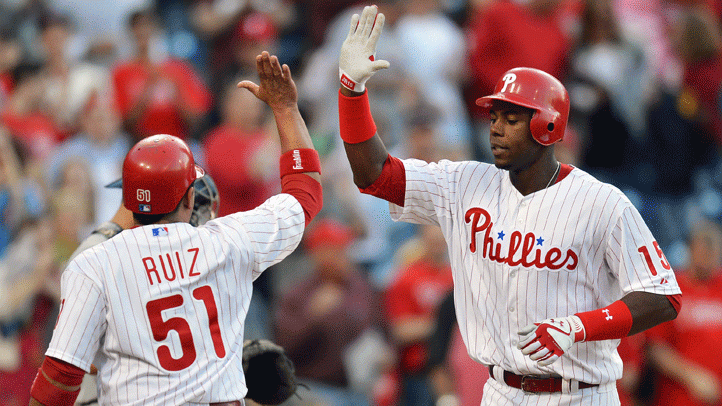 The Phillies took the final game of the three-game set against the San Diego Padres on Sunday afternoon, but it was not without some difficulty, as they were only able to cobble together three runs in support of starter Cole Hamels.
That's been the case in a lot of their games this season: A great performance by a starting pitcher, but a smattering of runs from the offense. And until Chase Utley and Ryan Howard get back, that's probably going to be the way things go, unless, as Jimmy Rollins suggested after the game, the team can finally figure it all out. Via David Hale:
"The cast is completely different. It is brand new with the guys here with the expectation of winning and getting off to a start like this. It hasn't shown up in the field yet, but we believe in ourselves. We still know we have a good team that can win series and go on a run. It just hasn't happened yet."

I suppose that Jimmy has a point. Indeed, several members of the 2012 squad weren't around last year, including Ty Wigginton, Laynce Nix, Freddy Galvis, Juan Pierre and Chad Qualls -- all guys who have seen their fair share of playing time this season. But, does that really matter? Before 2008, Brad Lidge wasn't on the team. Before 2009, Raul Ibanez and Cliff Lee weren't on the team. Before 2010, Roy Halladay and Roy Oswalt weren't on the team. Before 2011, Hunter Pence wasn't on the team. And so on. If memory serves, none of those guys had trouble fitting in, either.
The greater problem, or put differently, the actual problem, is that they Phillies just aren't good enough to compete right now. While the offense has been scoring enough runs to win games, they are still capable of getting shut down on any given night. The Phils also don't have too many relievers capable of getting outs, which is a problem when the lineup isn't capable of scoring runs in bunches. Aside from Jonathan Papelbon and Antonio Bastardo, it seems like none of the relievers can get outs.
That's not to say that the team hasn't gelled yet, but I don't know that doesn't make a difference. And honestly, I could give a hoot about clubhouse chemistry, because that's not what wins games. Sure, I suppose a team comprised of guys who get along is better than the alternative, but the only thing that actually matters is the on-field performance. And if you ask me, I'll take a team of guys with zero chemistry who can knock the snot out of the ball over a team that has dinner together every night that can't hit to save their lives.
But, I suspect that what Rollins is really saying is something akin to "I don't really know why we aren't winning games, so here is an old baseball cliché for you guys to use in your game stories." And until they can get some help on offense, that's probably not going to change.