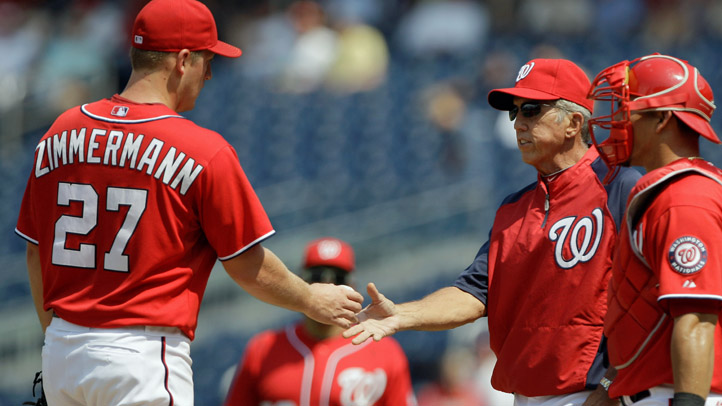 It seems that the Nationals just can't get enough in their mostly one-sided battle with the Phillies.
The latest shot at the Phightins came from Washington manager Davey Johnson who took a complement about his young ace Stephen Strasburg and turned into a shot -- albeit a mild one -- at the Phils' top pitchers.
After taking a question about the effect Strasburg could have this season, Johnson said he would take the Nationals' starting rotation over team in the league, and that Stephen Strasbrug, Gio Gonzalez and Jordan Zimmermann compare to the Phillies' vaunted trio of Roy Halladay, Cliff Lee and Cole Hamels.

"I mean, he has the chance to be one of the best pitchers in the league," Johnson said of Strasburg.

"With the addition of Gio, [Edwin] Jackson, Zim has proven he's up there. He's going to be part of one of the best staffs in our division. I'd take my staff, all five guys or six guys, over any staff in the league."

"Even the Philles?" Johnson was asked.

Given the Nationals' youth and potential, Johnson replied, sure.

"Their top three versus our top three, stuff-wise, we match up as good," Johnson said.
With how impressive Strasburg has looked in limited major league action and the potential for Gonzalez to improve even more, Johnson could be right about the future. But this isn't a question about the future, it's all about now, and right now Roy, Cliff and Cole are the best trio in all of baseball.
Rich Dubee summed it up perfectly when he told Phillies.com, "I guess that's his opinion," about Johnson's comments.
Lee also wouldn't take the bait when asked by Phillies.com:
... "He should [take those pitchers], because that's his only option. It's what he's got to do."

In other words, whatever.

Lee said he wouldn't compare Halladay, Hamels and himself to any other pitchers on any team in baseball.

"There's nothing good that's going to come out of that," said Lee, who allowed six hits and two runs in three innings in Sunday's 4-4 tie against the Tigers at Bright House Field. "I know we're proven and we've shown what we can do, and if we're healthy, we stack up pretty good against anyone. I'm not going to sit here and try to create something out of nothing, because to me, really, that's nothing."
Johnson's comments came a few weeks after the Nats made headlines for trying to bar Phillies fans from an Internet pre-sale for the teams' May showdown in D.C. as part of the "Take Back the Park" initiative. And a Washington-area radio station's call for fans to join the "Forget You, Philly" Twitter movement.
If anyone is keeping score at home, with Johnson's comments the Nats Nations is up 3-0 in dissing the other team this preseason. Of course the Phils are up 5-0 on division crowns the last five seasons. I'm pretty sure the Phillies and our fans are still, in the words of Charlie Sheen, "winning."