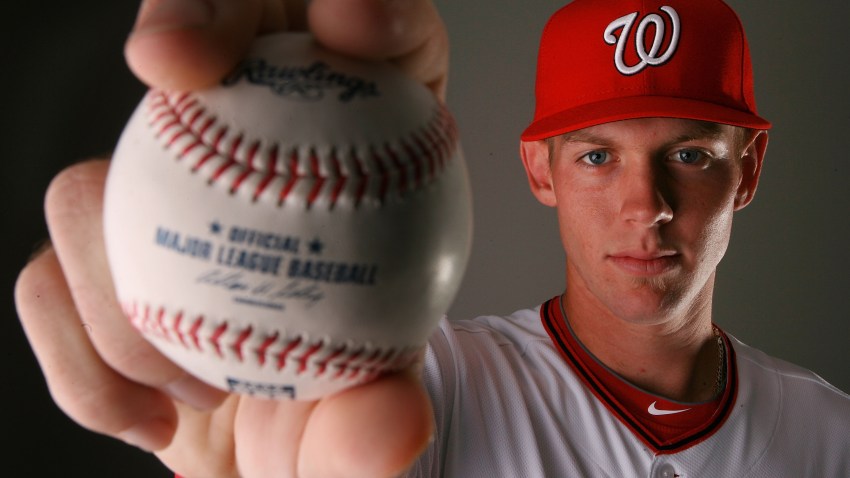 After years of futility the Washington Nationals believe they can compete with the five-time defending National League East champion Phillies both on the field and in the stands of their ballpark.
In an attempt to keep Nats Park from looking like "Citizens Bank Park South," the Nats launched the "Take Back the Park" presale ticket initiative for their May 4-6 series with the Phils.
The message is simple -- the Nats are hoping to fill the seats with D.C. fans so that Phillies fans – looking for a nice day trip or an easier ticket to score than at CBP -- won't have as easy a time taking the 2:30 hour trip down I-95 to cheer on the Phils.
"For several years now, our fans, everybody, have been screaming about the number of Phillies fans that invade our park when we have a series here at Nationals Park," said Nats COO Andy Feffer. "Frankly, I'm tired of seeing the Phillies fans in our ballpark in Washington more than anything. We sat down as a group and we said, 'You know what? It's time to take our park back in Washington and get our fans in this park.'
The problem for the Nats is that since they opened the gorgeous Nationals Park in in 2008, Phillies fans have felt more than at home in Our Nation's Capital -- turning Nats Park into "CB Park South" – often drowning out the cheers of the home crowd with their own "Let's Go Phillies" chants.
To try and prevent Phillies fans from gobbling up large chunks of seats, the presale only allows people with zip codes in D.C., Maryland and Virginia or Nationals season-ticket holders to sign up. Once a fan is signed up they can buy up to eight tickets to a game.
This in theory prevents Philly natives from buying tickets right now while giving the Nats' faithful a chance to beef up their fans base.
It's worth asking if the Nats' "Take Back the Park" initiative is going to hurt D.C. from a tourism perspective. The fewer tickets that land in the hands of out-of-towners mean fewer hotel rooms used, possibly fewer people eating at restaurants and likely fewer cars paying for parking, according to tourism experts.
That likely means less tax money for the District.
So why, besides proximity and the fact that the Phillies are the big dog of the NL East, would a team be inclined to try and prevent fans from paying for a ticket?
Phillies Vice President of Sales and Ticketing Operations John Weber sums up in part why other teams are so aware of Phillies fans.
"It's a tribute to our team that (fans) travel so well," Weber tells NBC10.
Weber says a policy like this is likely meant to "jump start" their own fan base and is something that since the Phillies sell out so many games they don't need to do right now. He also adds that the Phils tickets package deals like the Red Sox six-game pack and weekend three-game packs for the Giants and Braves games in July are in place because these are the game most-desired by Phillies fans, not the opposing team's fans.
Phillies fans aren't entirely being shut out though:
"This presale was designed to give Nationals fans an early opportunity to purchase tickets to these popular games in an effort to rally our fan base and encourage them to fill Nationals Park with Curly W's," says Nats Communications Manager Alexandra Schauffler. "Single game tickets for all games and all fans -- including the Phillies series -- will go on sale in early March."
Of course, with hundreds of Philadelphia-area natives at universities like Maryland, George Washington, American, Georgetown, UVA and more, it's possible that a few Phillies fans could have a way around this policy and scalpers might buy tickets without a care of who is using them, but this move to "Take Back the Park" is an obvious statement by the Nats that they are sick of being picked on.
"Someone asked me, 'What do you think of Philly and Phillies fans and the series?'" said Feffer. "I couldn't be more direct. I said, 'Forget you, Philly. It's our fans, our time, our park and we are going to fill it with Nationals fans.' We are going to do everything we can to ensure our fans here in Washington that first opportunity to make that happen."
And in case you were wondering if Feffer meant what he said, considering that the Nats say they have no plans to offer a similar presale for any other games against other opponents -- including weekend series against fellow northeast teams like the Orioles and Yankees -- it's fair to say that this is the Nats saying they no longer plan on being pushovers and neither do their fans.