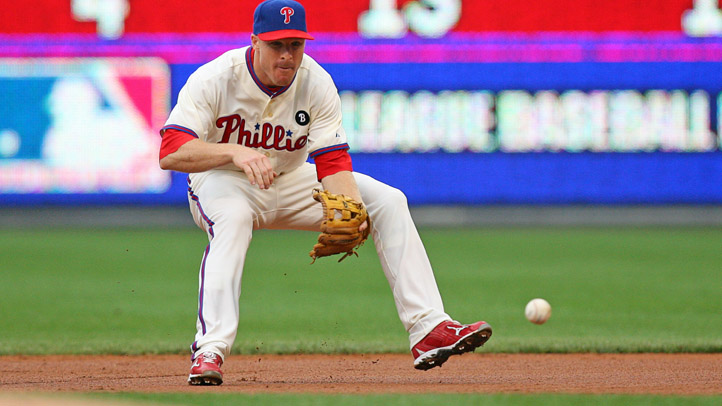 Erik Kratz, Pete Orr, Wilson Valdez and Ben Francisco -- meet some of the Phillies starters from Tuesday's day part of a day/night doubleheader with the Nationals.
Phillies regulars like Chase Utley, Jimmy Rollins, Placido Polanco and Raul Ibanez eventually got their swings as the Phillies used 24 players but it wasn't enough as the Phightins fell 4-3 in 10 innings.
Nats regular third baseman Ryan Zimmerman came off the bench with a pinch-hit single off Phillies reliever Michael Stutes (6-2) in the 10th to give the Nats the win.
Washington reliever Tom Gorzelanny (4-6) pitched a scoreless ninth and closer Drew Storen escaped a leadoff double from Kratz in the 10th to record his 39th save.
The game meant nothing to the Phillies (98-55) who had already clinched the best record in the National League. But it still was disheartening to see the team once again struggle to score runs. The Phillies have lost three in a row at home in parts thanks to a sleeping offense. They left 13 on base in this game.
The makeshift starting lineup that featured only two regulars (Hunter Pence and Shane Victorino) managed just four hits (two by Pence) off Washington starter Tommy Milone in six innings.
Phillies starter Kyle Kendrick was also very good holding the Nats to just four hits while striking out four over six shutout innings.
The Phillies only runs came on Ibanez's pinch-hit, three-run homer to tie the game at three. Reliever Michael Stutes put the Phils in a hole by giving up a two-out homer to Roger Bernadina in the top of the inning.
The same teams play at 7:05 and maybe the Phillies will have something to play for as Cliff Lee (16-7, 2.38 ERA) goes to the hill looking for his 17th win against Washington lefty Ross Detwiler (2-5, 3.76).