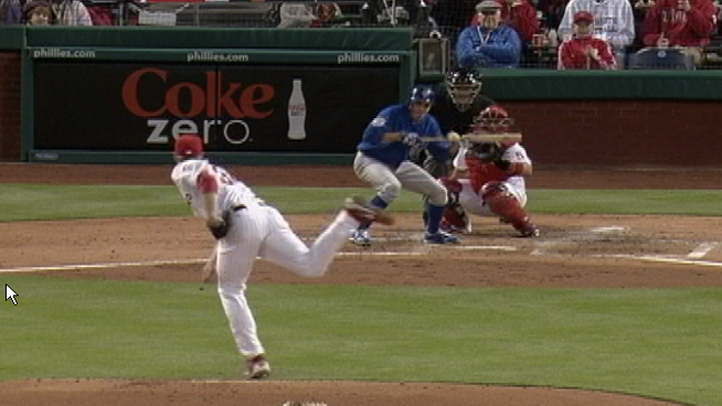 Paul Maholm pitched 6 1-3 solid innings, Starlin Castro had two hits and an RBI, and the Chicago Cubs beat the Philadelphia Phillies 5-1 Friday night.

Maholm (2-2) allowed a run on five hits with a strikeout and no walks, dropping his ERA from 8.36 to 6.20, and Tony Campana had two hits and scored twice for the Cubs.

Ty Wigginton homered for Philadelphia, which has scored two runs or less in 11 of 20 games this season.

Roy Halladay (3-2) was unhittable at the start, retiring 10 straight batters with four strikeouts, but surrendered three runs on six hits in a three-inning stretch to fall to 1-5 lifetime against Chicago. He allowed three runs on six hits with five strikeouts and two walks.

Rafael Dolis pitched two scoreless innings for his first major-league save.

Chicago took a 1-0 lead in the fourth. Campana led off and got the Cubs' first hit on a bunt, sliding safely into first and just beating the tag of Wigginton. After stealing second, Campana scored on Castro's bloop single to center.

Castro is 6 for 12 lifetime against Halladay.

The Cubs scored two more runs in the sixth on RBIs by Alfonso Soriano and Ian Stewart. Chicago went ahead 2-0 on Soriano's single to left that scored Campana, who led off the frame with his second straight infield single. Stewart doubled to right to drive home Bryan LaHair, who had singled, for a 3-0 cushion.

The inning ended with a blunder by Soriano, who was caught flat-footed in between third and home on Darwin Barney's ground-out that resulted in a rare 1-3-2 double play.

But the three-run lead was more than enough for Maholm.

The Phillies' offense, still missing injured All-Stars Chase Utley (knee) and Ryan Howard (Achilles'), didn't' resemble the unit that tallied 20 runs in its last three games.

After Carlos Ruiz's second-inning double, Maholm retired 15 of the next 16 batters before Wigginton's homer to left with one out in the seventh. That hit ended the night for Maholm.

Philadelphia threatened to score more in the seventh off left-handed reliever James Russell after putting runners on first and second with a pair of infield hits, but Soriano caught Juan Pierre's drive to left after initially misplaying the ball for the final out.

The Cubs tacked on two runs in the ninth off right-handed reliever Michael Schwimmer on Reed Johnson's RBI triple that got past a diving Hunter Pence in right. Johnson scored on David DeJesus' single.



Copyright AP - Associated Press