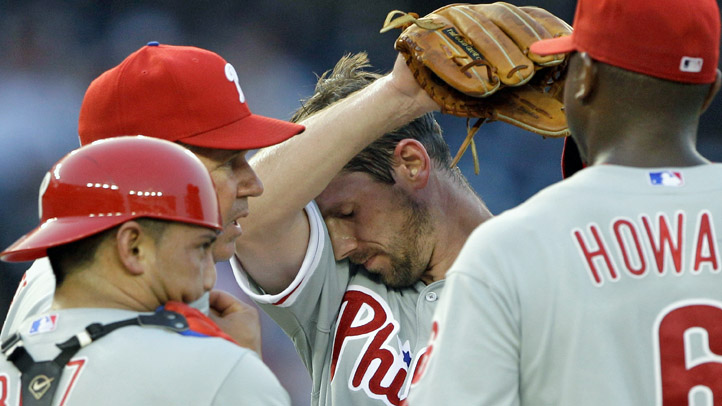 It wasn't Cliff Lee's night Tuesday as he was rocked for six runs and didn't last through the sixth inning as the Phillies went on to lose 10-2 to the Nationals.
Lee (4-5) saw his ERA jump to 3.94 after the poor showing against the last-place Nats (23-31).
The lefty "ace" cruised through two innings before falling into trouble in the third as the Nats batted around. Lee gave up two singles before walking Ian Desmond to load the bases. Jayson Werth hit an RBI sac fly and Michael Morse singled home a run before Danny Epinosa's three-run homer put the Nats up 5-0.
Lee would last into the sixth but after an Espinosa homer and a walk to Jerry Hairston, Jr. Lee was pulled with the Phils trailing 6-2.
"I'd like to erase this from my memory, wish it never happened, but can't do that," Lee said. "It's reality. They're professional hitters and if you continue to get behind a little bit and continue
to throw balls over the plate, they're going to score runs."
Lee's line 5 1/3 innings, seven hits, three walks, two homers, six earned runs and four strikeouts over 96 pitches.
The Nats would extend their lead by scoring three of Danys Baez an the seventh and adding another insurance run off lefty Mike Zagurski in the eighth.
The only runs for the Phillies came on back-to-back homers by young outfielders Dominic Brown and John Mayberry, Jr. in the top of the sixth.
But that was it, Nats starter Jason Marquis (6-2) spread two runs and eight hits over 6 1/3 innings to take the win.
The rubbermatch of the series is Wednesday at 1:05 when Phillies (34-21) send No. 3 ace Roy Oswalt (3-2, 2.60 ERA) to the hill against John Lannan (2-5, 4.40).