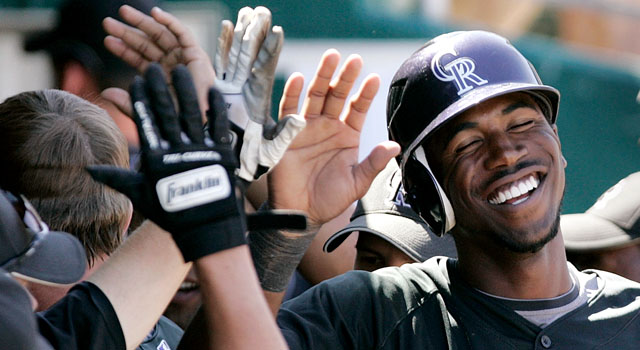 The outfield free-agent pool got a bit shallower for the Phillies on Monday, when Angel Pagan -- one of general manager Ruben Amaro Jr.'s primary targets -- signed a four-year contract with the Giants worth $40 million. Pagan manned center field for the Giants earlier this year, and went on to win a World Series title with the club.
Pagan's signing, along with B.J. Upton's last week, means that a free-agent class that was once a buyer's market is now less and less in favor of the teams looking to fill their outfield holes. With Pagan and Upton -- who were the more sensible options, as far as the big names go -- off the market, it leaves the Amaro and the Phillies much less room to maneuver if they want to go outside the organization to fill center field.
As far as impact bats go, the only real difference makers on the market are Josh Hamilton and Michael Bourn, both who figure to command much higher salaries (and longer contracts) than either Pagan or Upton. I'm not a fan of Hamilton unless he'd be willing to take a shorter deal, Bourn's value is tied completely to his speed, and both players are going to be expensive.
One potential option, however, is Colorado's Dexter Fowler. The 26-year-old outfielder had a breakout season in 2012, with a .300/.389/.474 line with 11 homers in 143 games. He's speedy, young, and doesn't figure to be too expensive in 2013.
Despite that, Fowler might not be the best fit, due to the fact that he performed much better in Colorado (.984 OPS, 10 homers) than on the road (.720 OPS, 3 homers) last season. It's no secret that Coors Field is very favorable to hitters, and Fowler appears to have taken full advantage of the thin air in Denver.
That's not to say that he won't have value if he played his home games in Philly, but given Colorado's reputation for making mediocre hitters into great ones, I wouldn't bet on him adding a lot of life to the Phillies offense.
Plus, the Phillies would once again have to reach into their farm system to acquire the outfielder. A farm system that, over the last few seasons, has been drained to acquire the likes of Roy Halladay, Cliff Lee and Hunter Pence. While Fowler won't command a ton of prospects, it's not necessarily worth the cost, considering the return.
With the winter meetings now officially underway and the market a bit thinner, you can expect Amaro to make something happen over the next few days. For better or for worse.