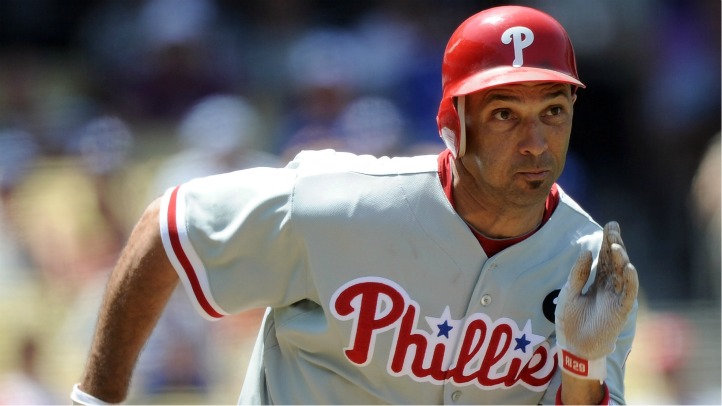 The Phillies offered some veteran free agents salary arbitration this week including reliever Ryan Madson and shortstop Jimmy Rollins.
No surprises there.
But the third player offered a potential one-year deal should he accept raised some eyebrows with Phillies fans.
Raul Ibanez?!?!?
That's right, the 39-year-old outfielder who has battled injuries and inconsistency in his three years in red pinstripes could be back to platoon for the Phightins.
There is one major problem with bringing back the slugger who blasted 20 homers last season.
He could earn around the same $12 million he was paid last season to likely be a platoon player in 2012. That is a lot of money for a player who would likely only get about 400 at bats and posted a measly .707 OPS last season.
But the Ibanez offer was possibly a ploy by the Phightins -- with the vet's blessing -- to try and land a sandwich draft pick in next year's draft.
While Rollins and Madson were expected to receive this offer, the Phillies created some surprise when they also extended the offer to the 39-year-old Ibanez, who made $12 million this past season.

Ibanez is now in a position where he could accept and gain a one-year deal that would likely be around the same $12-million figure. But there is reason to believe that the veteran outfielder told the Phillies they could extend this arbitration offer with the understanding that he would not accept it.

If Ibanez returns to Philadelphia to possibly fill a platoon role, he would likely have to agree to a much lower salary. If the veteran outfielder signs elsewhere, the Phillies will receive a sandwich pick between the first and second rounds of the 2012 First-Year Player Draft.
Of course if Ibanez didn't have an agreement with the Phils to reject their offer by the Dec. 7 deadline this move could come back to bite the Phillies big time.
In his three seasons in Phillies Ibanez went from an All-Star in 2009 when he batted .272, slugged .552 and posted a .899 OPS with 34 homers, 93 runs and 93 RBIs to .245/.419/.707 last season.
Despite the swoon, Ibanez is a good presence in the locker room and could serve nicely as a left-handed stick off the bench and occasional left fielder especially if the team determines Dom Brown isn't ready for the big time yet. And if he lands elsewhere he would leave the Phils with one extra young prospect to trade away at the trade deadline in the future.