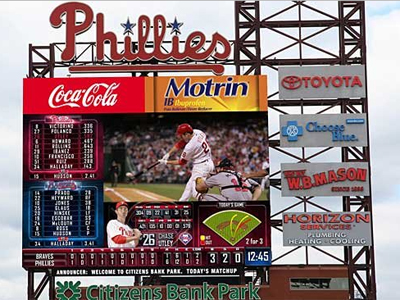 The Phillies are receiving a major upgrade in the form of a $10 million HD scoreboard for fans to gaze at while the R2C2 aces aren't out on the mound.
The scoreboard will measure 76 feet high by 97 feet wide, making it a whopping 7,372 square feet.
It will be the largest HD display in the National League and one of the largest in the world.
"The new technology and dramatically larger image will bring our fans closer to the action than ever," said Phillies director of broadcasting and video services Mark DiNardo.
The new scoreboard is almost triple the size of the old display which will be moved to Bright House Field, the Phillies spring training facility, in Clearwater, Fla.
Of course a few things with the new scoreboard -- well at least the artist's rendition of the behemoth -- seem strange, as pointed out by the folks over at The700Level:
That there is a rendering of the brand spanking new scoreboard above Harry the K's at Citizens Bank Park that fans will get to enjoy this coming season... you'll notice that Jimmy Rollins is hitting a cool .643. The most unrealistic aspect of the rendering? Roy Halladay gave up a run.
The upgrade is brought along by the Phillies partnership with Sony Electronics' System Solutions Group and Daktronics.
The Phillies video replay and control room, PhanaVision, the video production/video coaching production areas and the ballpark's cable TV system will also make the move to HD, allowing fans in the suites and bars to see the game more clearly.
Closed captioning is also included in the new display, improving the overall experience for hearing impaired fans.
The scoreboard will make its debut during the On-Deck Series against the Pittsburgh Pirates on March 29 to 30.
---
Fan, follow and download: Get the latest from NBCPhiladelphia.com anytime, anywhere. Follow us on Twitter, Facebook and NBC Philadelphia. Sign up for our breaking news newsletter. And, get breaking news delivered right to your mobile phone -- just text PHIBREAKING to 639710 to sign up. (Message and data rates may apply.)