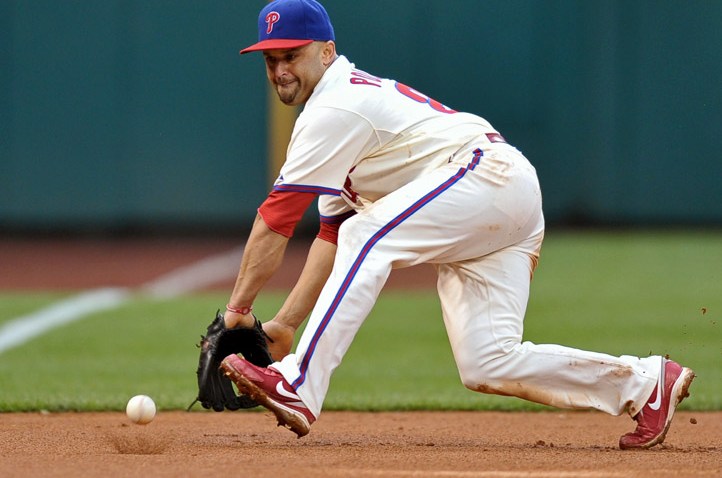 With pitchers and catchers set to report Feb. 18, we here are Philthy Stuff are grading the Phillies by position as they prepare to work towards a sixth-straight National League East title and try to return to the World Series in 2012.
---
In Philadelphia, the hot corner is a weighty position. It was once inhabited by the greatest Phillie of all time, Mike Schmidt, and was once the home of another talented homegrown product by the name of Scott Rolen. But aside from those two, there has been a sort of revolving door at the position in recent years.
While guys like Pedro Feliz held their own during their time in red pinstripes, it's been one of the shallowest positions in the organization for the better part of the last decade. The re-arrival of Placido Polanco changed that somewhat, but aside from him, the future of third base is very much shrouded in uncertainly.
But, for now, let's take a look at how third base shakes out in 2012.
Starter Grade: B+
When Polanco signed a three-year deal before the 2010 season, no one really knew what to expect. Everyone figured he would be a solid enough presence in the lineup, thanks to his keen bat control and ability to avoid striking out. Perfectly suited as a No. 2 hitter, Polanco brought some much needed consistency to a lineup that only seemed to score via the long ball.
The part about Polly's game that was most concerning to fans was his defense. He more than proved his worth as a slick-fielding second baseman, but a move across the diamond to third base -- a position not played by Polanco since 2005 -- would truly be a test for the 34-year-old.

But, two years into the contract, Polanco is the exact opposite player that the team thought they were receiving. Although he has been fine with the bat (.288 batting average), injuries have limited his value and his effectiveness on offense, which made the usually solid Polanco a liability late in the season.
On the other hand, his defense has been nothing short of fantastic. Despite the consternation of the fans, Polanco has proved to be one of the best defensive third baseman in the league posting a .986 and .977 fielding percentage in 2010 and 2011. In 2011 he was rewarded with a Gold Glove for his efforts, thanks to tremendous reflexes at the hot corner to go along with a cannon of an arm that makes those long throws across the infield seem effortless.
With one more season remaining on his contract, the real concerns are his health and his offense, with the former directly affecting the latter. In 2010, an elbow injury (after getting hit by a pitch) made him almost useless with the bat, and last season, a sports hernia was to blame for his offensive shortcomings down the stretch. But with offseason surgery under his belt, you have to figure (or at least hope) that the 36-year-old will return to form in 2012.
Reserve Grade: C+
In 2012, the Phillies better hope that Polanco can stay healthy because the depth at third base is, well, rather shallow.
With Wilson Valdez gone, the Phillies have put the onus on super-utility infielder Michael Martinez to serve as the defensive backup, while new Phillie Ty Wigginton serves to provide some offense, but very little by way of the glove.
If they could somehow combine Martinez's versatility and Wigginton's bat, then they'd have something, but as it stands, they are going to sacrifice a great deal in the absence of Placido.
Minor League Grade: C-
In the minor leagues, the Phillies have a handful of guys who could step up and play the hot corner in a pinch, including two players with MLB experience: Pete Orr and Kevin Frandsen.

Orr spent time with the Phillies in 2011, and started two of his 22 games at third base, while Frandsen last saw big league action 2010, when he was with the Angels. Neither of these two gents brings much by the way of offense and they are little more than warm bodies used to fill out a roster.
But should things go bad for the MLB depth, an interesting candidate for a roster spot is Cody Overbeck, a 25-year-old who spent a great deal of time at third base before being sent across the diamond to first base. While his defense at third was enough of a concern to get him moved, he's got enough pop in his bat (24 home runs in each of his past two seasons) to potentially make people forget about his defense.
Of course, Overbeck is a longshot. If he found himself playing third base at the major league level we could just assume that every other available third baseman in the world is injured, because that's probably what it would take for the right-handed hitter to get a shot with the Phillies.
Unlike some of the other infield spots, the Phillies don't have too much going on by way of can't-miss prospects that will be ready in the near future, the closest of which is 19-year-old Maikel Franco, who spent 2011 playing Single-A ball.

Overall Grade: C

Unlike some of the other positions on the diamond, the Phillies don't have a ton of options at third base -- there is a steep drop off after Polanco, and no immediate heir apparent to the throne. But, if Polly can stay healthy in 2012, you don't necessarily need one.
Other Grades: