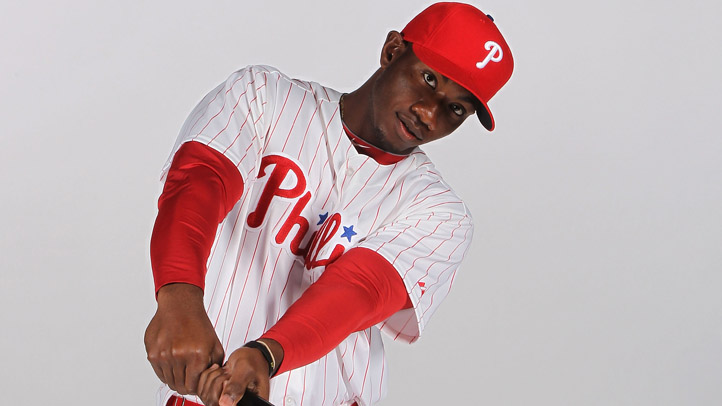 With pitchers and catchers set to report Feb. 19, we here are Philthy Stuff are grading the Phillies by position as they prepare to work towards a sixth-straight National League East title and try to return to the World Series in 2012.
---
For the first time in more than a decade, the Phillies find themselves without a left fielder on Opening Day. Since 2009, it belonged to Raul Ibanez, and for the nine years before that, it was the home of the recently retired Pat Burrell.
This year? Who knows. As of right now, it's down to John Mayberry, Jr., who made a splash with a breakout 2011 season, or Domonic Brown, the highly-touted prospect who appears to be ready to make the leap to The Show.
For all intents and purposes, I'm going to go ahead and assume that the brass make the sensible decision and hand it over to the 24-year-old Brown -- making the future now.
Starter Grade: B-
This one is hard to grade given that we don't know exactly how Brown is going to respond to a full season at the major league level while simultaneously learning a new position.
However, if his time with the Phillies in 2011 is any indication, then the left-handed hitter should hold his own with the bat. Despite his very "blah" line of .245/.333/.391 in 184 at-bats, he took some incredible strides from his performance in 2010, where he hit .210 and struck out in nearly half of his at bats.
After struggling in his first month or so last season, he came on strong towards the end of June -- he would hit .291 with a .396 OBP the rest of the way -- as he displayed his ability to hit for average while also having a strong sense of the strike zone.
Despite the improvement he was demoted at the end of July when the Phillies acquired Hunter Pence from the Houston Astros. It was at that time that Brown was tasked with moving to left field, where he struggled (sometimes a great deal) at the position in Triple-A.
But even with his apparent defensive shortcomings, Brown's bat and youth will serve the lineup well, and with Ryan Howard out for the near future and the rest of the team seemingly in a state of constant injury, they'll need all the offense they can get.
Reserve Grade: B
Backing up Brown will be the triumvirate of Mayberry, Laynce Nix and super-sub Michael Martinez, with Mayberry the runaway favorite to step up should the need arise to give Domonic some rest. The big right-handed hitter enjoyed some success last season -- he hit 15 homers and racked up an .854 OPS in 104 games. Although it remains to be seen if he can produce at that level in the future, there is no down side to having an athletic outfielder (who can play all three outfield spots) who can hit for power.
Rounding out the outfield is Nix, who is all glove, some power (16 homers in 124 games in 2011), and no patience (.288 career OBP) who can handle right-handed pitchers (.253/.296/.451) far better than lefties (.181./.235/.271).
Behind Nix is Martinez, who, by default, can back up just about every player on the team thanks to solid defense, but lacks any sort of a bat -- .196/.258/.282 last season.
Minor League Grade: C+
The Phillies have a good amount of depth in the minor leagues, thanks to Scott Podsednik and Juan Pierre, who can provide a light-hitting, speedy safety net for the Phillies.
Podsednik, who spent some of 2011 with the Lehigh Valley Iron Pigs, is a 10-year vet with a decent career line (.279/.340/.381) and great speed (301 career stolen bases).
Similarly, the recently-signed Pierre brings the same skill set to the table. He can hit for average (career .296 hitter), but can't hit for power (16 career homers), but can play defense and steal bases (554 career stolen bags).
That doesn't seem like much by way of offense, and the Phillies would be wise to look elsewhere if they need to replace Pence or Shane Victorino, but in a pinch, both Podsednik and Pierre can provide depth in the outfield and on the bench.
Overall Grade: C+
All in all, the Phillies are mostly average in left field. Brown certainly has a high ceiling, but it's hard to say whether or not he will get any significant playing time this season, and even then, his defense may be questionable.

Fortunately, they can do much worse than having Mayberry as their backup, and even though Nix and Martinez are automatic outs at the plate, they don't figure to get much by way of playing time.
Would it be better if they had a sure thing in left? No doubt. But Dom Brown must just be the surest thing they are going to get.
Other Grades: