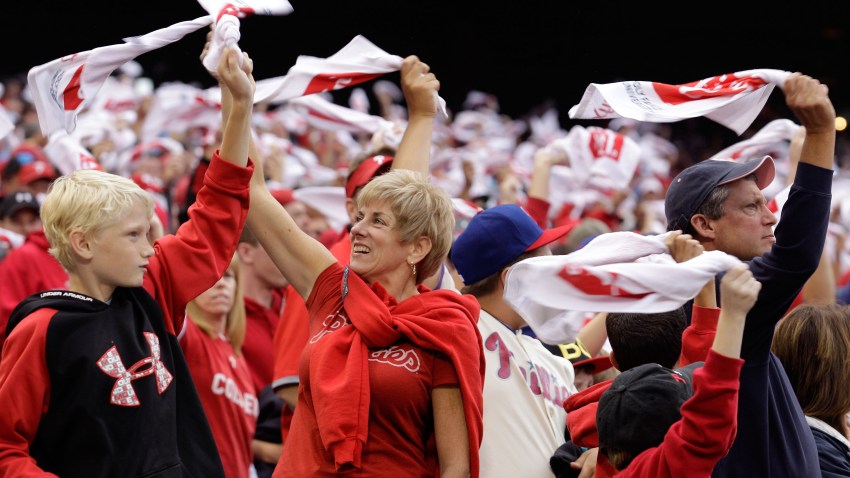 What are the things you think every Phillies fan should know or do before they die?
That is the question that Crashburn Alley's Bill Baer tried to tackle with his book 100 Things Phillies Fans Should Know & Do Before They Die, which was released by Triumph Books earlier this year.
The 23-year-old (yes, that's right, a guy barely old enough to drink is a published author) writer took some time to talk about his book and his thoughts on the Phillies of yesterday, today and tomorrow.
"I'm from the younger generation so that definitely shapes what was included in my book," Baer said.
"I didn't really put too much pressure or emphasis on the ordering because every fan has their own experience of the team whether they're older or younger or how stringently they follow them."
He says it would be difficult to objectively say one thing was more important than another but that doesn't mean he didn't intentionally plan item No. 1 in his unofficial list.
"Obviously I had Harry Kalas first -- he's basically the voice that every Phillies fan has grown up listening to -- so having him No. 1 was definitely something I strove for."
But after that there is a hodgepodge ranging from looks back at the 1980 World Series champions to a suggestion on how Phillies fans should carry themselves at the ballpark to the night Von Hayes and the 1989 Phillies made an announcer eat his words.
As for the 80s World Series team, Baer dedicated two chapters just to their epic playoff series against the Astros and Royals.
As for fan behavior? Phillies faithful should work to break the stigma that we are mean and even possibly dangerous.
"Well one of my chapters in the book is to be kind and courtesy as a fan when you're at the ballpark. Fans in Philadelphia… have a reputation for being ornery and unwelcoming.
"If you see a visiting fan be kind, buy him a beer, make a friend. And make Citizens Bank Park a nice place for everyone to be at."
As for the Von Hayes story, it's long, but basically the Hayes-led Phils came back against the Pirates but not after Pirates announcer Jim Rooker said he would walk back to Pittsburgh if the Bucs lost. Well they did and after the season Rooker -- a man of his word -- made the walk across the Keystone State.
"It was actually a very interesting story… just the whole story from everything that announcer said to him actually living up to his promise, is one of those rare stories that you get in baseball. You could play a hundred more seasons with a hundred more announcers and a hundred more Von Hayes and you would never get that same story. It's just one of those great legends to have, very unique."
There are plenty of other beloved stories in the book (ain't that right Mitchie Poo) fans will remember fondly but Baer says that it was inevitable that not every story could make the cut.
"I could have gone up to 500 things. That's just how much stuff is in Phillies history. Getting it down to a hundred was pretty much a task in and of itself.
"I like to tell people to just put it in their own order -- if the more recent teams are more important to you than go ahead rip out the pages, put them up there. Or if you like the late-70s teams, the 1980 team, than go ahead with that."
Check back in the coming days to find out about Baer's omission of many old-time Phillies memories, his memories of the Vet, cheestesteaks (of course) and what non-measured activity is the stat-heavy blogger's favorite thing to do at the ballpark.
---
Bill Baer is a lifelong Phillies who founded the Crashburn Alley blog in 2007. His first book "100 Things Phillies Fans Should Know & Do Before They Die" is available now on Amazon.com, TriumphBooks.com, IPGBooks.com and at other retailers.