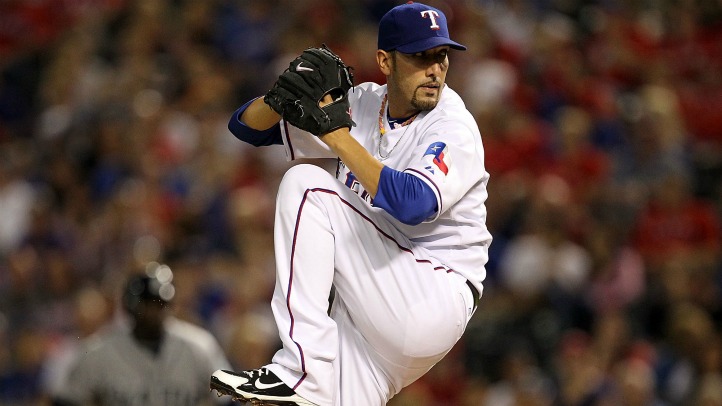 Here at Philthy Stuff we'll be taking a look at the 2013 Phillies and what we can expect from each and every player in the upcoming season as we head towards Spring Training. Next up, Mike Adams.
More than anything else, this off-season was an attempt to address perhaps the biggest problem spot (and there were many) of last season: the bullpen. Although we can make a case for the rotation and the offense, both needing overhauls, the bullpen ultimately was the soft underbelly of the 2012 Phillies.
Despite signing big-time closer Jonathan Papelbon as the ninth-inning anchor, the Phillies didn't have a ton of luck elsewhere in the late innings. Aside from the likes of Antonio Bastardo, they didn't really have anyone else they could turn to over the course of the season. There were some young arms that showed much potential, like Jake Diekman, Justin De Fratus and Phillippe Aumont, but the team was sorely lacking a veteran presence thanks to injuries (Jose Contreras) or plain ol' ineffectiveness (Chad Qualls).
So it was no surprise that, when the off-season was underway, that GM Ruben Amaro Jr. would make it a point to shore up the bullpen by acquiring a seasoned arm that could offer effective innings in high-stress situations. And following their failed attempt to trade for Wilton Lopez, they turned their focus towards Mike Adams, the veteran reliever who has quietly been one of the best late-inning men of the last several years.
Adams established himself as a dominant reliever with the Padres in 2008, before taking that success to the American League, where he spent the last two seasons with the Rangers. For his career, the right-hander has a 2.28 ERA in 363.2 innings, with 365 strikeouts.
The biggest concern over Adams is that, like most the team, he is in his 30s (he turned 34 in July), and that he's lost a tick on his fastball over the last season or two, as evidenced by his declining K/9 rate (7.7 in 2012, 9.9 from 2008-2011). While these are legitimate concerns, the truth is that Adams still figures to be an important cog in the bullpen.
Bill James projects him to bounce back from a sub-par (by his standards) 2012 season, and has him tossing 55 innings for the Phillies in 2013, with a 2.45 ERA and 9.0 K/9. It remains to be seen what he's capable of, but a performance like that will certainly go a long way in turning around a bullpen that was among the worst in the league in 2012.