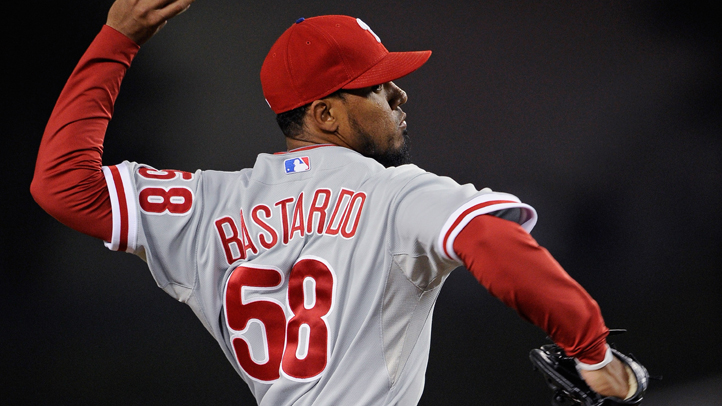 Here at Philthy Stuff we'll be taking a look at the 2013 Phillies and what we can expect from each and every player in the upcoming season as we head towards Spring Training. Next up, Antonio Bastardo.
Two years ago, few relief pitchers were better than Antonio Bastardo, the young left-handed pitcher who spent his 2011 season dominating opposing hitters in the late innings. Following a short-lived stint as a starter in 2009, he was moved to the bullpen in 2010 before breaking out a season later. In 2011, Bastardo recorded eight saves to go along with a 2.64 ERA and 70 strikeouts in 58 innings.
Even despite some late-season struggles, Bastardo was still one of the most valuable left-handed relievers in the league that year -- something that he carried into 2012. Even though he saw an an uptick in ERA (4.33), Bastardo still managed to provide very effective relief innings, even as he saw a slight increase in walks. That's mostly due to a career-high 14 K/9 that allowed him to erase most of his mistakes by striking out batters at a high rate.
And unless he plans on drastically altering his mechanics, Antonio will bring the same skill set into 2013. He'll dominate lefties (.621 OPS against), he'll strike batters out in bunches, and he'll likely still walk his fair share of batters (around 4 BB/9 in 152 IP in four seasons), which truly prevents him from being among the best relief pitchers in the game. Bill James tends to agree, as he predicts the lefty to have a 3.29 ERA in 52 innings, with 11.08 K/9 and 4.33 BB/9. As we've always said, those are just projections, but in Bastardo's case, they seem pretty much right on the nose.
On top of that, Bastardo will be all of 27 years old next season, making him one of the few Phillies that isn't aging and overpaid. With a bloated payroll and far too many players with a double-digit salary, it's a breath of fresh air to have a highly-productive player that isn't breaking the bank.
While his game isn't perfect (he walks too many batters), Bastardo is very much a key contributor to the Phillies' success. Left-handed relief pitchers are a rare and precious commodity, and the Phillies certainly have found a gem in young Bastardo.

Along with closer Jonathan Papelbon, new setup man Mike Adams, and a host of young arms, Bastardo figures to be a key addition to one of the best bullpens in the National League.