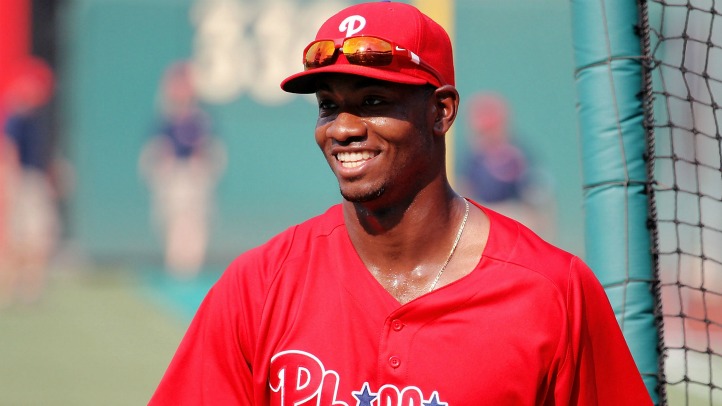 One of the more pressing questions heading into the 2012 season -- at least for me -- is the fate of the currently vacated left field position.
While the Phillies have to fill the void that is first base until Ryan Howard gets off the disabled list, it's left field that is far more intriguing, because that decision has a potentially much bigger impact on the season until whatever combination of first baseman fill in until the middle of May or June or whenever. And the reason it could have greater implications for the season (and the next few years) is because it hinges upon whether or not the brass choose the obvious answer (John Mayberry, Jr.) or the right answer (Domonic Brown.)
I've talked at length about Brown -- what he means to the Phillies long term -- and that the team has not given him a fair shot. Sure, he got injured last spring training and the team traded for Hunter Pence, so it's not like they were without reason, but, at this point, there is very little reason not to let the 24-year-old outfielder crack the Opening Day lineup.
For now, it seems like the Phillies will at least consider giving him that chance, according to Rich Hoffman of The Daily News, who has General Manager Ruben Amaro Jr.'s comments on the situation:
"He could surprise all of us and come with guns a-blazing and win a job at the major league level this year out of spring training," Amaro said. "Right now, I believe it's Mayberry's job to kind of lose, but at the same time, we'll keep our minds and eyes open and see what happens with Dom this spring and see how he handles being in leftfield and making that adjustment."
It's not an ironclad vote of confidence for Brown, but it at least sounds like they are considering Brown for the big club if he can impress during spring training. Of course, it could be all for P.R. purposes, so who knows how they really feel about the team's best hitting prospect.
For me it's a no-brainer. Brown is at the point where he can't do anything more in the minors. Iffy defense aside, the kid can straight up hit. He has a great idea of the strike zone, he can take a pitch or two, and, at age 24, he is still working on his power swing.
That's not to say that Mayberry deserves to be replaced, but call me unconvinced when it comes to seeing a repeat his 2011 performance, where he hit .273/.341/.513 with 15 homers in 267 at-bats. It's possible that he can do that in 2012, but I'm more convinced in Brown's ability to be a full-time player.
And yes, some will point to his .236/.314/.391 line over 91 games in 2010 and 2011 as evidence that he is a bust, but that's nothing more than evidence that the kid needs some actual time to develop at the major league level. After all, it's not like Mike Schmidt tore the cover all the ball in his first two seasons with the team (.197/.324/.367 in 145 games).
For now, let Brown get acclimated in left field while Mayberry fills in at first base until Howard gets back. That will give the team a good two months to sort out the "problem" of having two young players vying for one spot.
After all, only the future of one of the best prospects in recent memory depends on it.