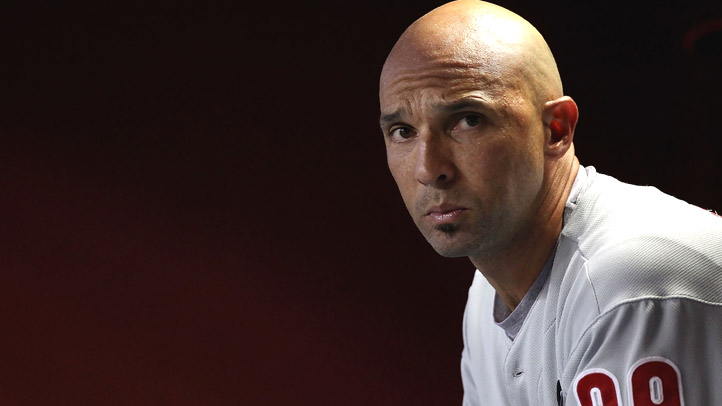 Cliff Lee's 12 strikeouts weren't enough to lead the Phillies to victory Monday night in Arizona.
Not much short of perfection would have been good enough to beat the Diamondbacks thanks to a pathetic offensive effort by the Phillies in a 4-0 loss.
The Phightins (this effort wasn't worthy of that monicker) managed just three hits -- two from Placido Polanco -- and struck out 10 times against Arizona starter Ian Kennedy (3-1). The righty needed just 114 pitches to record his first career shutout.
Lee (2-2) went seven innings allowing five hits, four runs and walking one while recording a season-high 12 Ks.
The Phillies No. 2 ace got little help from an offense that has now scored more than 3 runs in just four of their last 16 games.
Some of the biggest culprits for the offensive outage displayed putrid numbers once again Monday night. Raul Ibanez (.179 batting average/.500 OPS), Ben Francisco (.253/.736), Carlos Ruiz (.230/.691) and even Ryan Howard (.274/.802) went a combined 0-for-12 with three Ks.
One bright spot for the Phightins was Michael Stutes. The right reliever made his Major League debut by pitching a scoreless eighth inning. But at that point it was too late to rescue the night.
The Phillies offense will try to actually score a run Tuesday night against Arizona righty Daniel Hudson. They should have at least some luck against the young righty. He has an ERA of nearly 6 and has yet to win in four starts so far this season.
No. 3 ace Roy Oswalt will take the hill for the Phils trying to build on his 3-0 record.