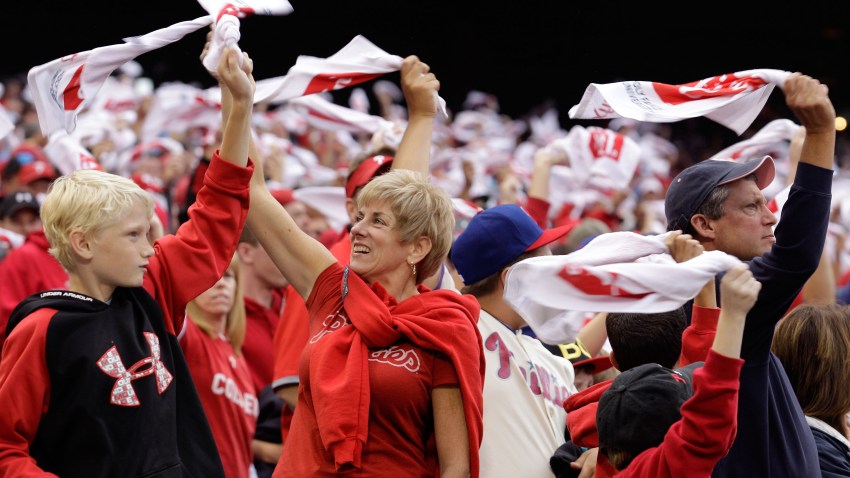 There are few certainties in sports, especially Philly sports -- case in point the 0-fer Wednesday -- but there is one thing that basically seems bankable.
A sellout at Citizens Bank Park.
Well that certainty -- 216-straight regular season games of Phillies fans packing the stands -- could be in jeopardy.
The Phillies barely squeezed out a sellout Tuesday night as 43,821 fans saw the Mets erase a four-run deficit to beat the Phils. The attendance amounted to 100.4-percent capacity, according to ESPN.
That means the Phillies only broke the sellout mark by a few hundred or so fans. Phillies beat reporter Ryan Lawrence tweeted that the crowd was the "smallest at Citizens Bank Park since July 7, 2009. That's the day the 'streak' started."
Through 12 games so far this season, the Phils still lead the majors with 45,190 fans a night but that is 250 fans a game down from the 45,440 they led baseball with last season.
With rain in the forecast, the Phillies lingering in last place and the ho-hum Mets still in town, could the Phillies sellout streak come to an unceremonious end as soon as Wednesday night?
No, Phillies Vice President of Ticket Sales and Operations John Weber told NBC10.
"At some point it will end but it won't be this evening," he said Wednesday afternoon.
Weber says he expects about the same amount of fans to be at the ballpark as there were Tuesday night.
A couple weeks back, before the Cubs came to town, Weber told me that tickets remained on Phillies.com for 10 of the 14 games in May and that a couple of thousands could remain for some of the games, though he didn't say which ones.
"In of itself, 14 games in 17 days is a challenge," Weber added Wednesday.
Of course a rain out could put everything on hold and with a weekend series ahead you would think the Phillies would sellout the entire San Diego series -- even though tickets remain for Friday night. But the sellout streak could be in jeopardy again with the Astros come to town for two games on Monday and Tuesday. Weber says tickets remain for the Astros games as well as a three-game set against the Nationals the following week.
Who knows though, if the Phillies put together a few wins and the weather gets nice again, the sellout streak could get through this stretch of non-drawing opponents and into the Red Sox games in mid-May and on to the series against the Dodgers in June.
Yogi Berra put it best, "It ain't over till it's over."