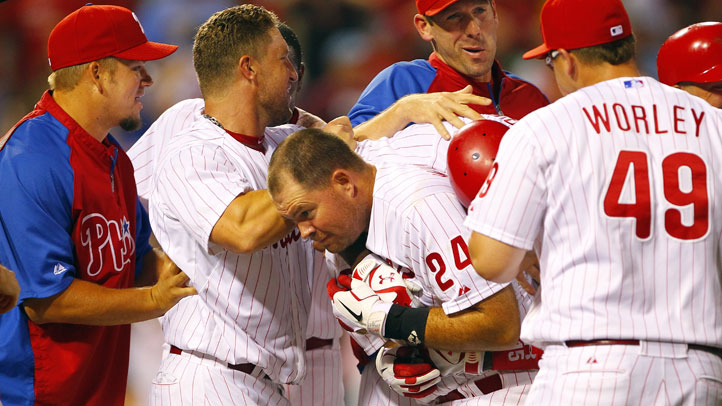 The trade deadline is a crazy, crazy time around baseball. Want the ultimate proof? On Monday, about 24 hours before the deadline, the Phillies were reported to be both buyers AND sellers, as they'd been tied to rumored attempts at acquiring Chase Headley and Shin-Soo Choo while also being attached to a rumored attempt at selling Cliff Lee among many other veterans.
See, the deadline is supposed to feature three distinct classes of teams. Buyers, sellers, and teams who don't know whether they classify as a buyer or seller because of where they were in the standings.
There aren't supposed to be teams both buying and selling. There are rules, man. But the Phillies are, according to Ken Rosenthal of FoxSports.com, actively ignoring that rule and taking a look at acquiring third baseman Headley from the San Diego Padres and outfielder Choo from the Indians.
And Danny Knobler of CBSSports.com reports that the Phils are contemplating trying to send Lee to the Rangers, even though they've told Lee in recent weeks that they won't trade him. The Lee rumors aren't new necessarily, but they have apparently been slapped with a defillibrilator and given a second life after a brush with death last week.
So how the hell is this all happening, especially when, as Dash wrote on Monday morning, the Phillies need to be peddling off all their assets as fast as humanly possible?
Well, the logic is that the Phils could sell off their spare veteran parts for prospects. Then they could take those prospects and swing them to the Padres for Headley, who would improve the team's core going forward in 2013.
Additionally, unloading Lee's contract (as well as the contract of Hunter Pence) would do wonders for a Phillies payroll that is bloated for next season. But the problem is, who can afford him and provide the Phillies with stud prospects? The Rangers are probably the only logical solution, and would need to include third baseman Mike Olt.
"It's not going to be cheap," a source told ESPN's Buster Olney regarding what it would cost to acquire Lee.
Of course it's not ... for either side. But instead of breaking down exactly why and how this deal could work out, let's use it as an example of why the MLB Trade Deadline is so ridiculous (and, to a certain extent, so awesome).
And that's because anything is fair game. ANYTHING. There's maybe 35-40 players in all of baseball who aren't discussed in some sort of rumor, mainly because they're so talented that no team will trade them, but also sometimes because they're paid too much money to be trade-able.
Except even when that's the case, there's still chatter. (See: Carl Crawford to Tampa for overpaid Rays rumors.)
The Phillies can't be buyers and sellers, and not because it's impossible to both buy and sell. In fact, when you sell a player away, you are, inherently, also buying. That's what you get when you sell. And just because the Phillies are actively seeking out a guy like Headley doesn't make them "buyers," because they're still looking towards 2013 with that trade in mind. Ergo, they're selling. That's all they're doing.
But in the trade-deadline world, it doesn't matter, because the only thing that does matter is utter chaos. And just in case you don't believe me, by the time I started writing this post to now, the Dodgers have emerged as a "dark horse" for Cliff Lee.
It's a fun time of year, but we're nearing the saturation point of ridiculous rumors at this stage. Someone make a move already.