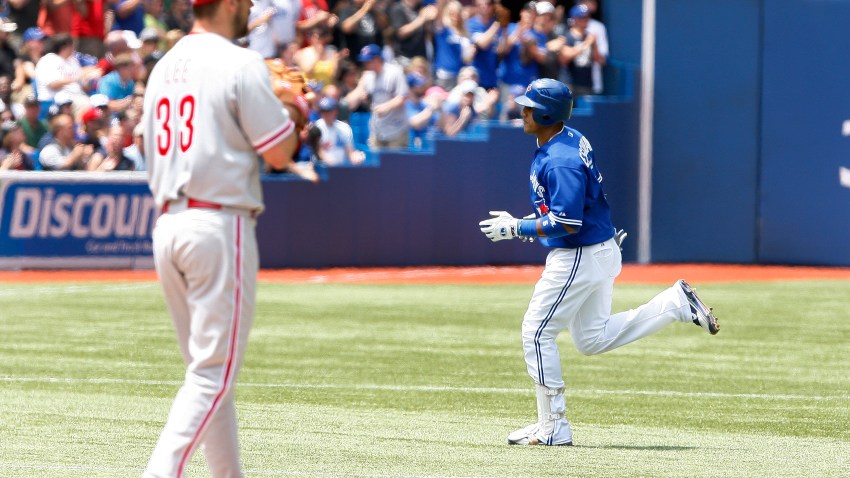 Sometimes, the 2012 Phillies look every bit like a contending team, as they can muster the right amount of offense and pitching to look nearly unbeatable. But usually, they look like they did in Toronto over the weekend, where they were convincingly drubbed by the Blue Jays.
It was a series that, more or less, perfectly illustrated all the problems and maladies that this team faces.
First, the starting pitching. It goes without saying, but not having Roy Halladay on the mound every five days is going to take its toll before too long. Sure, there is Cole Hamels (who is awesome), Cliff Lee (who is winless, but it's not really his fault), and Vance Worley (who is looking like the real deal.) But after that, it get's shaky. While Kyle Kendrick is a suitable replacement in that he is a warm body that can hurl rawhide spheres in the low-90s, he isn't going to be much more than a replacement-level talent that is more effective when he isn't on the mound.
Then you have Joe Blanton, who is a mixed bag, as demonstrated by his ability to either shut an opposing lineup down, or conversely, get lit up like the Fourth of July. At present, 40 percent of the rotation is a huge risk when they are handed the ball. Ordinarilly, having three good starters and two so-so ones is a luxury that most teams would die for, it's not cutting it for the starting-pitching-focused Phillies.
Next, the bullpen. There are a lot of people that think that closer Jonathan Papelbon should be used more. Like, a lot more. In tie games on the road, in the eighth inning, for more than one inning, and so on. But, unless they want their multi-million dollar investment to be totally burned out in the playoffs (assuming they get there), Charlie Manuel has to be judicious in the usage of the relief ace.
And while Antonio Bastardo has been good, and guys like Jake Diekman and Micheal Schwimmer have shown a glimpse of the future, the bullpen is wildly undermanned and is running on fumes. And on Saturday, that was on display, as it was the eighth game this season in which the Phillies have lost during their opponent's final at bat.
Finally, the offense. On Friday night, the offense was shut down by a series of Blue Jays relievers who were called into the game after their starting pitcher had to be pulled with two outs in the first. Ordinarily, that means beating on the underside of a 'pen, but the Phillies were held in check by relief arms.
To be fair, there wasn't much expected of the bats when this season started. With Chase Utley and Ryan Howard on the shelf to kick off the season, no one thought that a lineup that gave a decent amount of at bats to Juan Pierre and Ty Wigginton would be very good. However, and much to the chagrin of many , they are getting the job done, to an extent. Going into Sunday, they were fifth in the National League in runs scored. That's actually fairly impressive, considering that the lineup, as Manuel so lovingly put it "doesn't scare anyone."
But the one thing that hurts this team, on offense, is that they are so thin up and down the lineup that it's hard for them to put teams away in the late innings, or to come from behind and rally when they need to. Scoring a lot of runs relative to the rest of the league is great, but when you need a couple of baserunners in the top of the ninth, you better hope that the one part of the lineup that is capable of doing some damage comes up. Otherwise, you are left with Mike Fontenot, Michael Martinez and John Mayberry Jr. being counted upon to get them back in the game. Aside from Carlos Ruiz, who was absolutely killing everything, there are no difference-making hitters right now.
And that, my friends, is a recipe for disaster. The Phillies find themselves struggling with consistency all the way across the board, and that makes it really hard to get anything going, and it's no real surprise that they can't muster up a decent winning streak.
In short, they've got a lot of problems. Some will get fixed earlier than others, but after this recent slide, you have to start wondering whether or not it's going to make much of a difference in the second half of the season.