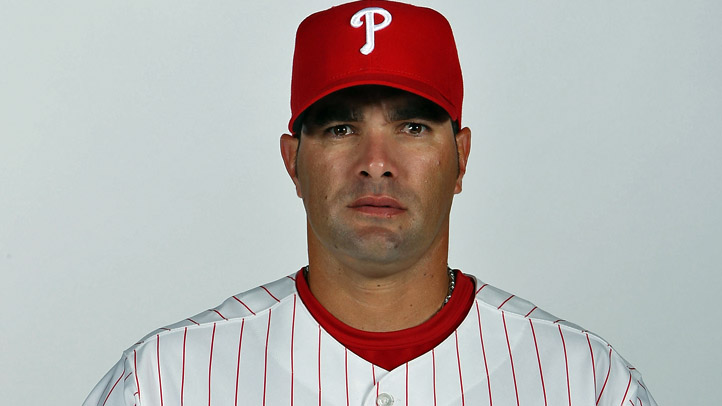 The Phillies were given a gift then gave a gift back as they lost to the Cardinals 2-1 Tuesday night.
After Tyler Greene (no, not that Tyler Green) booted a would-be pop out leading to Placido Polanco's game-tying RBI sac fly in the top of the eighth, relievers Danys Baez (1-2) and J.C. Romero combined to blow the game in the bottom of the ninth.
Despite closer Ryan Madson being available, manager Charlie Manuel turned to the much-maligned Baez (5.09 ERA in two seasons with the Phillies) to start the ninth. The 33-year-old righty promptly gave up three consecutive singles to load the bases with nobody out.
Baez was able to get St. Louis slugger Matt Holliday to ground into a fielder's choice to nab the lead runner at home. But the damage was already done. Romero came in to face Lance Berkman and on his first pitch gave up the game-winning single.
The Phillies spoiled a nice effort from Roy Oswalt who returned from the disabled list to throw 76 pitches over five innings allowing one run on seven hits and one walk while striking out three.
Again the offense failed to show up -- this time against tough lefty Jaime Garcia who allowed just one unearned run on five hits and a walk while striking out five over eight innings.
One other note from this game, righty Michael Stutes left in the bottom of the sixth with an undisclosed injury.
Things don't get an easier for the 25-16 Phillies. Despite a four-game losing streak they might still lead the NL East by ½ game but the NL-West leading Rockies (22-18) are coming to Philly for a two-game set. Cole Hamels (4-2, 3.19 ERA) will try to knock off lefty Jorge De La Rosa (5-1, 3.70 ERA) to get the Phillies back in the win column.