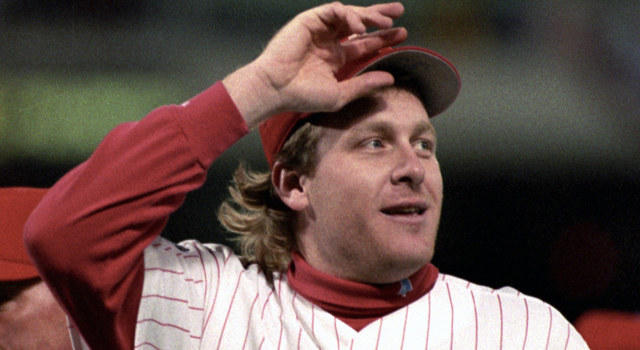 On Wednesday afternoon, the Phillies announced the 12 eligible players for the 2012 Wall of Fame. Once again, the fans will get to vote on their favorites, and the top three players will be added to the ballot, where one lucky player (or manager) will be be chosen for induction, which will take place during Alumni Weekend in August.
The list, courtesy of Phillies.com:
Pitchers: Larry Christenson, Jim Konstanty*, Ron Reed, Curt Schilling, Rick Wise
Catchers: Mike Lieberthal, Jimmy Wilson*
Infielder: Pinky Whitney*
Outfielders: Greg Gross, Von Hayes
Coach: Mike Ryan
Manager: Jim Fregosi.
A couple thoughts on this: First, it seems wildly unfair and antiquated that only one former player gets selected each year. It seems harmless enough, and some years, there might not even be one worthy candidate, but what happens if Chase Utley, Jimmy Rollins, and Ryan Howard all retire at the same time? Surely you can't keep two of them off the wall in their first year of eligibility? I get that this isn't the Baseball Hall of Fame, but come on, everyone.
Second, letting the fans narrow the field to three seems especially out-of-whack, because a decent portion of the fans probably don't even know who have of these guys are. I dig the fan participation part, but if you're like some fans I know, Rick Wise is a guy who makes potato chips, and not someone who hit two home runs in the same game where he also tossed a no-hitter.
At any rate, here are my picks: Schilling, Fregosi and Lieberthal. But if I may be honest, only Schilling really warrants consideration. Fregosi was a fine manager, and it's not his fault that the team fell apart after 1993, but we aren't even talking about him if it wasn't for that season. And Lieberthal? He was a fine player and a good-hitting catcher (as far as catchers go), but never really stood out on his own. However, I do appreciate the fact that he signed a one-day contract with the Phillies in 2008 (after spending 2007 with the Los Angeles Dodgers), so that he could officially retire as a Phillie.
Only Schilling, who was a horse during his nine years with the club, deserves induction. Sure, he was (and probably still is) pompous and self-aggrandizing, but he manged to win 101 games (while only losing 78) in his nine seasons with the Phillies, which, when you think about how bad some of those teams were, is kind of amazing. He wrapped up his Phillies career with a 3.35 ERA in 1,659.1 innings over 242 games, where he stuck out 1,554 batters.
He didn't win a title with the team (unlike Christensen and Reed), and he likely won't wear a Phillies cap if (when?) he gets elected to Cooperstown, but he will go down as one of the greatest pitchers in the history of the franchise, and his championship success with the Arizona Diamondbacks and Boston Red Sox only hammer that point home even further.
Assuming that Curt gets the nod, he will be in good company, as Darren Daulton and John Kruk -- both members of the 1993 National League Championship team -- have already been inducted.