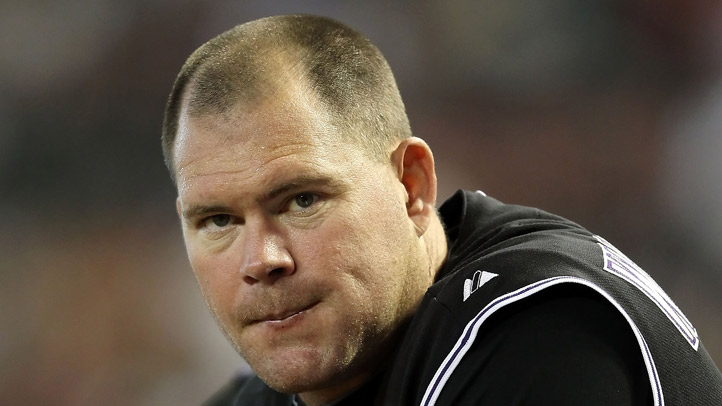 The Phillies took another step toward finalizing their 2012 team on Sunday afternoon when they traded with the Colorado Rockies for right-handed utilityman Ty Wigginton.
Wigginton, 34, has played for six different teams over the course of his 10 year career, and has spent time at just about every position -- with a concentration at third base, first base, and left field.
His presence gives Charlie Manuel a lot more options when it comes to filling out the lineup card, thanks to his defensive versatility and his ability to hit for power. In 2011 with the Rockies, he hit .242 with 15 home runs in 130 games.
Since breaking into the league in 2002, he's averaged 119 games and 16 home runs per season with a triple-slash line of .265/.325/.443. He's not one to take a pitch, but with a bench that needs upgrading and an offense that will be pieced together until Ryan Howard gets well, Wigginton is a fine addition to a Phillies team that is still without an everyday left-fielder or a shortstop.
The trade, which is for a player to be named later, is very team-friendly deal for the Phillies, as they will only be covering $2 million of Wigginton's $4 million salary. Plus, his addition likely means that the Phillies are no longer going to be pursuing Michael Cuddyer, the free agent outfielder who would have come with a hefty price tag and an offensive skill set not too dissimilar from Wigginton's.
Personally, I'm a fan of the move. It's inexpensive, and these player-to-be-named-later-trades are almost never for anyone of consequence, so the Phillies aren't going to be giving up anyone that will be missed. On top of that, Wigginton is going to provide some decent power from the right side of the batter's box while being able to play multiple positions in the field.
It's not a perfect signing, but not every move has to be. Wigginton fits the bill for a particular need that the Phillies have, it's cost effective and Amaro should be rewarded next season for this acquisition.