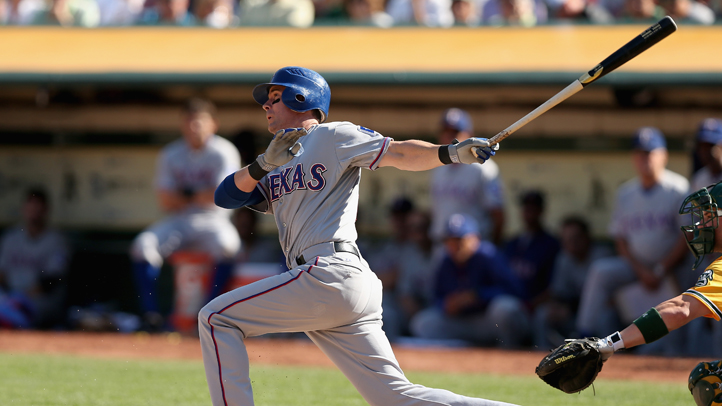 The Phillies made another trade on Saturday, when they acquired infielder Michael Young from the Texas Rangers in exchange for a pair of relief pitchers. The trade, which was several days in the works before being completed, required Young to waive his no-trade clause.

In exchange, the Phillies will send RHP Josh Lindblom, recently acquired from the Los Angeles Dodgers in the Shane Victorino trade, as well as Lisalverto Bonilla, a minor league relief pitcher.

First, the good:

This move addresses another one of the Phillies' off-season needs, as Young will be the starting third baseman in 2013. His defensive versatility will also allow Charlie Manuel to play him at all four infield positions over the course of the season, which will be especially helpful given the injury concerns of Chase Utley and Ryan Howard.

Young also led the American League in hits in 2011, where he also had an OPS of .854, and over the last five years, he's averaged 16 homers per season to go along with a .300 batting average and a .786 OPS.

The trade also didn't cost the Phillies a lot, in terms of personnel. Lindblom was near the bottom of the food chain in the bullpen, and wasn't going to be a key cog in preventing runs during the late innings next season. As far as Bonilla is concerned, he seems like he is a bit of a wild card in terms of what he can provide. He's only 22-years-old, and has a 2.50 ERA in four minor league seasons to go along with a K/9 of 9.3. It would have been nice to have someone like him in red pinstripes in a year or two, but thankfully, young relievers like him aren't a rare commodity.

The bad:

Despite Young's ability to play several positions on the field, he is unfortunately not a great defender. While he should figure to be capable enough at third base, he won't provide the type of run prevention at the hot corner that the Phillies received from Placido Polanco over the last three seasons.

To go along with iffy defense, Young isn't necessarily an impact hitter. His .682 OPS in 2012 was the lowest of his career, as was his eight home runs. While he has demonstrated an ability to hit for average, he doesn't have a ton of power, and he has benefited greatly over his career from playing his home games in the very hitter-friendly Rangers Ballpark in Arlington. He'll provide some value with his bat, but don't expect him to turn the offense around next season.

All told, the Phillies should benefit from Young's presence. He's durable, cheap enough, and is only around for one season. And in light of his disappointing 2012 campaign, Young seems like a prime candidate for an offensive rebound.

Big picture, this fills another need for the Phillies at a low cost, which allows them to dedicate more funds to finding a corner outfielder and a relief pitcher.