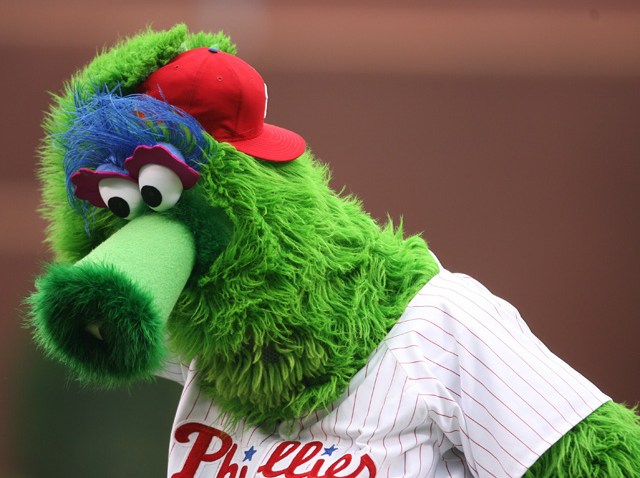 The Phillie Phanatic could be in hot water for cooling off a Jersey Shore hotel patron nearly two years ago -- allegedly injuring the woman after throwing her into an Avalon pool.
The alleged antics of the big green guy during a July 2010 appearance at the oceanfront Golden Inn Hotel and Resort resulted in permanent injuries to Suzanne Peirce of Abington, Pa., according to the lawsuit obtained by NBC10.
The Court of Common Pleas complaint signed by Peirce on June 7 and filed June 11 in Philadelphia, seeks punitive damages of more than $50,000 from the Phanatic, a.k.a. Tom Burgoyne and a second "Phanatic," a.k.a. Matt Mehler (who the Phillies list as a "Phanatic Representative"), the Phillies and the Avalon Golden Inn, Inc.
Per the complaint against the Phillies mascot:
As a result of being thrown into the hotel pool, plaintiff suffered severe and permanent injuries to her head, neck, back, body, arms and legs, bones, muscles, tendons, ligaments, nerves and tissues of her head, neck, back, arms and legs, including but not limited to, a herniated L5-S1 disc, aggravation and/or exacerbation of all known and unknown pre-existing medical conditions, internal injuries of an unknown nature, severe aches, pains, mental anxiety and anguish, and a severe shock to her entire nervous system and other injuries, the full extent of which is not yet know.
Read: The full civil complaint
The lawsuit goes on to claim that Peirce has spent "large sums of money" for medical attention and medicines.
The lawsuit claims the Phanatic was negligent by throwing Peirce into the pool (including considering the depth) and did nothing to warn her before the dunking.
The Phillies were also named in the suit since the Phanatic is a promotional tool for the team, according to court papers.
The Phillies released the following statement about the lawsuit:
We are aware of the case. We cannot discuss any of the details as it is pending litigation, but we do not believe the Phanatic engaged in any wrongful conduct.
The Golden Inn was also named since they hired the Phanatic for the event and allegedly never warned patrons of possible danger.
The filing requests that the case be heard by a jury.
This is the latest in a handful of lawsuits against the Phillies mascot. The Phanatic was sued two years ago after allegedly hurting a woman by accidentally stepping on her leg at a Reading Phillies game.