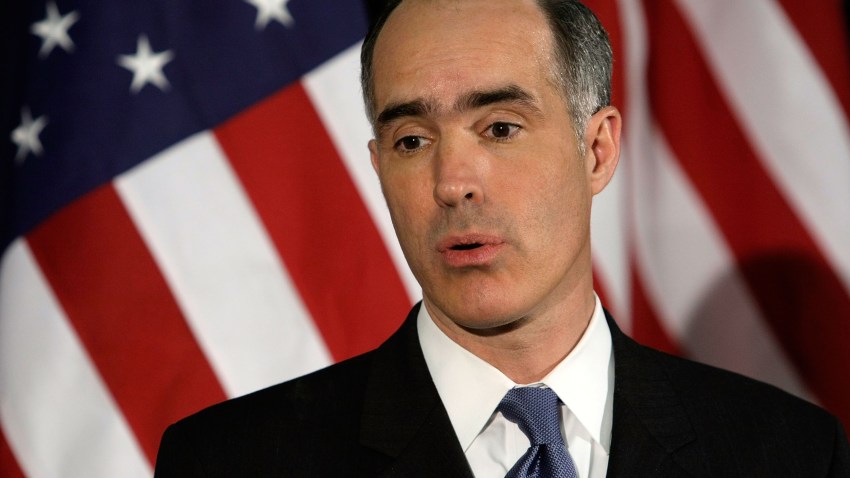 Recently, the Washington Nationals, sick and tired of having their stadium overrun with Phillies fans during the course of the season, started a "Take Back the Park" campaign, which served as a way to try and prevent Pennsylvanians from directly pre-purchasing tickets to Nationals games in D.C. In short, if you were from Pa., you were out of luck when it came to getting first dibs on tickets to Nationals Park, a.k.a. Citizens Bank Park South to Phillies fans.
The campaign, which was given the "Aw, how cute!" treatment by most, didn't do much by way of public relations for the Nationals, who came off looking desperate as they plead with their fans to fill up their shiny new ballpark.
And while they've mostly just received some playful ribbing from bloggers and fans, there is one Phillies fan -- Sen. Bob Casey (D-Pa.) -- who was not so amused. In a statement released last week, Casey asked that the Nationals repeal the Pennsylvania ticket ban:
"Phillies fans should have the same right that every other fan across the country has to purchase tickets and this gimmick by the Washington Nationals should be stopped right away," Casey said. "The Phillies have some of the best fans in the world and they shouldn't be left out in the cold on tickets just because the Washington Nationals want a stronger home field advantage."
Now, while I appreciate the Senator's effort, I have to ask: Really? Did you really need to write a letter and plead for this fascist ticket policy to be repealed? I don't know if you've heard, but we have this whole "economic and social crisis" thing going on, so maybe your energy is better spent on trying to fix things that actually matter. Again, Phillies fans are grateful that you would think to do this, but it reeks of sour grapes, not bravado.
You see, this ticket ban doesn't bother me in the slightest. Not because I plan on heading to D.C. to catch a Phillies game, but because I (and most other Phillies fans) can appreciate the plight of the Nationals, because it wasn't too long ago that the Phillies found themselves with a brand new ballpark, a talented young team, and plenty of empty seats to fill.
And, to be fair, having your home stadium overrun with fans of the opposing team should be disheartening. Despite the fact that there is a definite boon to the concessions, you don't build a new stadium for other fans to enjoy. You want to put your own fans in there, so they can enjoy watching the team that you built.
Imagine, for a moment, if the Phillies played in the same division as the New York Yankees or Boston Red Sox, and Citizens Bank Park had to host their fans multiple times during the season. You think their fans -- who travel well -- wouldn't show up and pack the stadium? Prior to 2009, that's exactly what happened. And luckily for the fans, the Sox and Yanks only came into town for three games, not nine, which is what the Nationals have to deal with. To that end, I understand their train of thought. No one hosts a party because they want people they don't like to show up.
It's also worth mentioning that the Phillies employ a similar method to keep Bostonites from buying in bulk when the Red Sox come into town during interleague play. How else do you explain the fact that you can only buy Red Sox tickets as part of a partial season ticket plan?
Of course, this is all just hot air, because if you really want to go to Washington to see the Phillies play, you'll find a way to get tickets -- thanks to the magic of StubHub -- or once they go on sale to the general public. It's not like the Nationals are going to ask to see your papers when you head through the turnstiles, or hit you up with some franchise trivia to get you to prove your fanhood.
So, while I do appreciate the Senator's gusto and the outrage by the Philly fans, I appreciate more the efforts by Washington's front office, because, it wasn't too long ago that the Phillies were in a very similar situation.