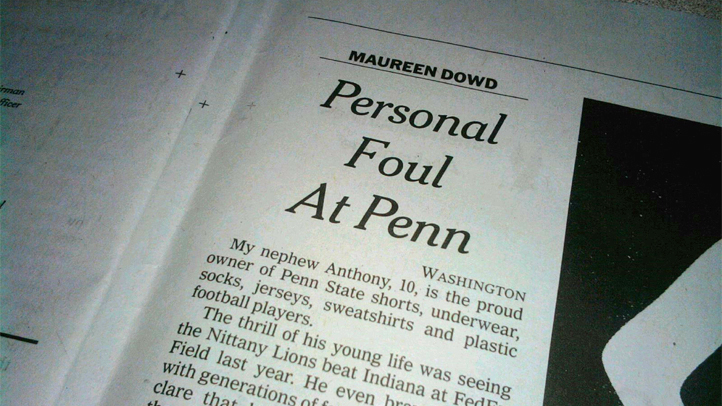 The New York Times made the mistake of referring to "Penn" - as in the University of Pennsylvania - instead of Penn State in its coverage of the sex-scandal that has rocked the college football giant. And Penn students are not happy-valley about it.

"Hey Maureen Dowd, We're Not Penn State," the headline reads on the Penn blog "Under the Button" Wednesday.

Some print editions of Wednesday's New York Times include the headline "Personal Foul at Penn" for a Dowd column that actually blasts Penn State. The column's last line refers to "Penn scoundrels."

Penn State, not Penn, is engulfed in allegations that former assistant football coach Jerry Sandusky sexually abused children. School officials, including head coach Joe Paterno, are being questioned and criticized for not reporting allegations to police years ago.

Students at "Under the Button" are demanding an apology from Dowd and the paper.

"Homegirl is trashing our reputation!" the blog says. "…seriously, world, stop confusing us with the brouhaha at Penn State," Penn student Morgan Finkelstein writes.

Corrections to the error have been made on the online version of the Times.

Penn is a private, Ivy League school in Philadelphia founded by Benjamin Franklin. Penn State is a land-grant institution 150 miles away in State College that receives some public funds.
Copyright AP - Associated Press