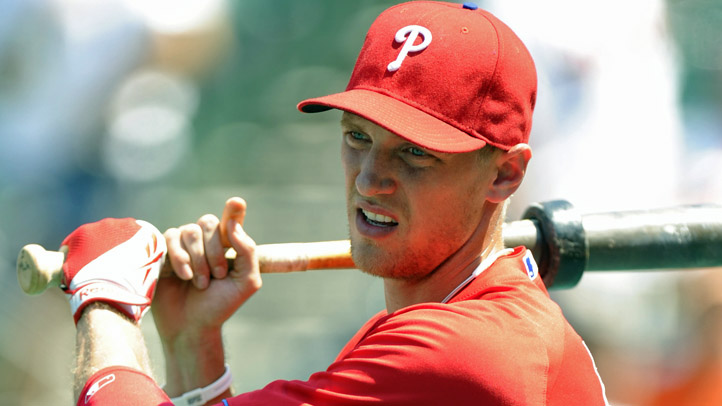 Hunter Pence's stint with the Phillies lasted exactly one year and two days.
Just a little more than a year after they acquired Pence from the Astros, the Phillies shipped the right fielder to the San Francisco Giants Tuesday for outfielder Nate Schierholtz, minor league catcher Tommy Joseph and right-handed minor-league pitcher Seth Rosin.
""Thank you Philadelphia for all your support and passion," Pence tweeted Tuesday afternoon. "Excited to see what awaits me in San Francisco!"
Pence, 29, is eligible for arbitration next season and could be due a raise -- possibly as much as $4 million -- from the $10.4 million the Phils paid him this past offseason.
Since joining the Phillies two days before last season's trade deadline, Pence played in 155 games with the Phils batting .289 with a .357 on-base percentage and .486 slugging percentage. He had 28 homers, 94 RBI and 94 runs scored in red pinstripes.
This season Pence struggled through a series of slumps but still managed to bat .271/.336/.447 with a team-high 17 homers and 59 RBIs with the Phils.
Despite his (sometimes) impressive offense, Pence struggled in right field booting balls while committing five errors and a .971 fielding percentage. His -7.2 UZR is second-worst in the National League behind New York's Lucas Duda.
Schierholtz, 28, batted .270/.319/.412 in parts of six seasons with San Francisco. This season the left-handed hitter batted .257/.327/.429 with five homers and 17 RBIs in 196 plate appearances. At least with him in red pinstripes the Phils don't have to worry about facing him anymore. In 14 games Schierholtz batted .327/.403/.545 with two homers and nine runs against the Phillies.
Schierholtz is arbitration eligible next season and under team control through 2015.
San Francisco picked Joseph, 21, in the second round pick of the 2009 draft. He batted .260 with a .313 OBP and .391 SLG while hitting eight homers and 38 RBIs in 335 games for Double-A Richmond this season.
Rosin, 23, posted a 2-1 record with a 4.31 ERA in 34 appearances (five starts) for Single-A+ San Jose this season. His strength is his 68 strikeouts in just 56.1 innings this season.
Pence is the second Phillies outfielder dumped just before Tuesday's trade deadline. Shane Victorino was sent to the Dodgers about an hour or so before the Pence trade was officially announced.
Now with Pence gone the real question is what the Phillies will do with the 45,000 or so Pence bobbleheads they are scheduled to give out on Aug. 21. Will they still give all fans at that Reds game their Pence bobbler even though he won't be with the Phils?