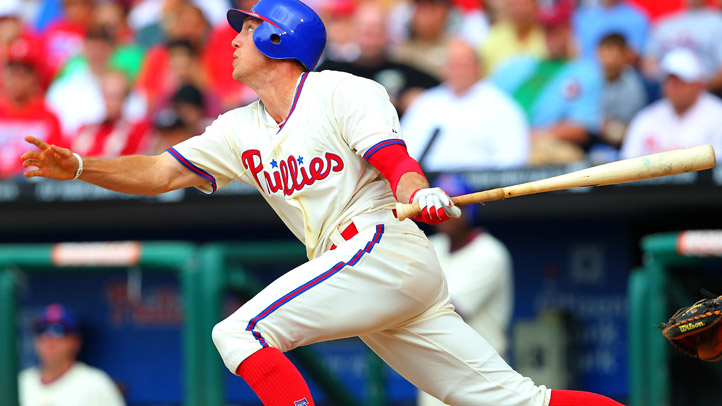 Somewhere Kim Batiste must be smiling after Tuesday's Phillies 4-3 win over the Astros.
Hunter Pence went from goat to hero in the 10-inning win. After his bobble in right field allowed Brian Bogusevic to score the tying run off Chad Qualls in the top of the ninth, Pence -- a former Astro -- came up in the bottom of the 10th inning with the game still tied and took former-Phillie Brett Myers (0-1) deep to left for the game-winner.
The moment was reminiscent of third baseman Kim Batiste's error in Game 1 of 1993 NLCS that allowed the Braves to tie the game. Batiste then came up with the game-winning hit in the bottom of the 10th to gives the Phils a 4-3 win over the Braves en route to the Fall Classic.
Of course there were plenty of differences between the moments, including the magnitude of the situation, the type of error, the type of hit and the fact that Batiste was a rarely-used defensive replacement for the Phightins while Pence is a star power hitter who rarely gets a day off.
Pence's homer made a winner of Jake Diekman (1-0) who relieved Qualls to record the last out in the ninth before pitching a perfect 10th in his first major league game.
Qualls -- who filled in for unavailable closer Jonathan Papelbon -- allowed four hits and two runs in just 2/3 of an inning. The struggling righty blew his fourth game of the season.
Qualls and Pence's struggles cost Cliff Lee his first win of the season despite an ERA of just 1.95 over 37 innings. Lee went eight innings Tuesday scattering five hits, one walk and a run while striking out 10 Astros.
Homers accounted for all the Phillies offense. Pence hit another solo home run earlier in the game and backup catcher Brian Schneider looked very Carlos Ruiz-esque in hitting his first homer of the season -- a two-run shot to put the Phils on the board in the second.
Another highlight of the game came in the eighth inning when manager Charlie Manuel got the boot for arguing -- quite spirited I would say -- with home plate umpire Bob Davidson after a wild pitch following a Cliff Lee strikeout that Manuel thought was tipped.
The Phightins now take their first three-game win streak of the season on the road for a quick two-game trip to face the Cubs in Chicago.