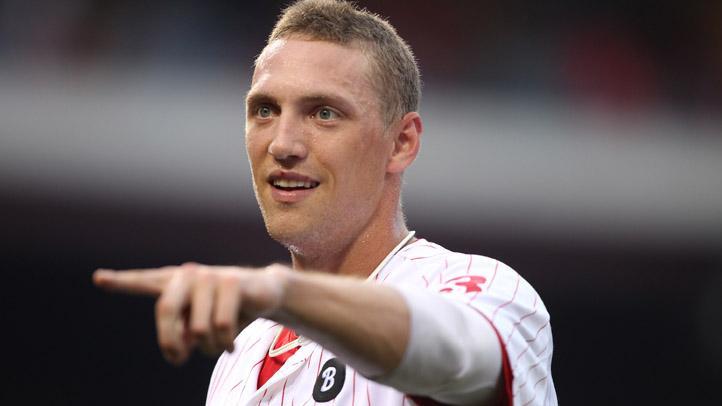 With pitchers and catchers set to report Feb. 18, we here are Philthy Stuff are grading the Phillies by position as they prepare to work towards a sixth-straight National League East title and try to return to the World Series in 2012.
---
The Phillies have questions in the corner outfield this season but those question marks only apply to left field. In right field, Hunter Pence enters his first spring training with the Phillies as a cold, hard lock to be the starter.
Pence, 28, has played at least 154 games a season since becoming a regular with the Astros in 2008 so, barring any major injury, the backups at this position won't likely see as much time as let's say first base or catcher. But, that doesn't mean the guys behind Pence are any less important.
Let's get to the grades.
Starter Grade: B+
I know people in "Pencesylvania" fell in love with Pence from the day he became a Phillie before the trade deadline last season and for good reason, he plays hard all the time, is a career .292/.343/.485 (batting average/on-base percentage/slugging percentage), looks like a regular-type of guy and wears those awesome high socks, but there are some holes in Hunter's game that keep him from an "A" mark.
The biggest knock against Pence is that he has posted good numbers but not great ones. His career highs of 25 homers, 97 RBIs and 93 runs are very good but not out of this world.
His best season, though, came last season when he out up .314/.370/.503 overall and an impressive .324/.394/.560 line as a Phillie.
The trick for Pence is that he needs to hit more homers and knock in more runs this season than last when he had 22 and 97 respectively. He needs to push past the 100-RBI mark if the Phillies are to be successful this season. If he does that he upgrades to an "A."
One area where he could also improve is the field. Though he boosts an above average arm (16, 16, 9 and 11 assists over the last four seasons) his UZR (Ultimate Zone Rating) is a well below average -4.8 that falls behind players like Jay Bruce, Nick Swisher and even David DeJesus. Basically he doesn't get to all the balls he should out in right.
All and all Pence could be great for the Phillies but right now he isn't quite there yet.
Reserves Grade: B
Pence can take a breather now and again thanks to John Mayberry, Jr., new addition Laynce Nix and possibly Dominic Brown.
Mayberry -- who had a breakout season (.273/.341/.513) while playing all three outfield positions and first base in 2011 -- should be ready to yet again play all over the field. That includes right field where he started seven games (played in 10) and posted a perfect fielding percentage in 2011.
Nix, 31, has spent most of his career as a center or left fielder but has played 66 games in right, posting a sub-par .972 fielding percentage in those games -- far below his .988 fielding percentage overall. Nix was brought here though to not only field but hit as well. His career batting line of .244/.288/.430 underwhelms, but he did improve it to .250/.299/.451 while hitting 16 homers in 324 at bats for Washington last season.
Nix could actually be more valuable to the Phillies in right than anywhere else on the diamond because he bats lefty. On days when a tough right-hander is on the hill, the Phils can give Pence a breather and let Nix bring his .253/.296/.451 (.263/.306/.475 with the Nats last year) stats to the dish. He gives the Phils a backup who can bring some pop to the table -- something they dearly missed last season.
Brown, who fellow Philthy Stuff blogger Dash Treyhorn projects to start in left, could also see time in right. Ideally, though, he would be starting in left or honing his skills in the minors rather than wasting away on the bench in the majors.
Minor League Grade: D
A "D" grade could be generous considering that if Brown winds up with the Phillies, that the team really has no up-and-coming right fielders to watch right now.
The Phillies have two guys with a little Major League experience in right invited to spring training --former Oriole and Cub Luiz Montanez and Scott Podsednik -- but both have only limited experience out there. Neither guy knocks the cover off the ball -- Montanez at .223/.258/.328 while Podsednik posts a respectable .279/.340/.381 – nor do they have an inside track to make the team. But after spending time on the IronPigs last season, it's possible that Pods could steal (get it?) a bench spot away from a guy like Michael Martinez or Juan Pierre.
Right field is probably one of the shallowest positions in the Phillies system. Brian Pointer impressed occasionally playing right for the Gulf Coast Phillies -- batting .278/.353/.503 in 47 overall games last season but he still a long, long way off from ever sniffing the majors. After him many of the minor league prospects -- guys like Tyson Gilles, Jiwan James and Aaron Altherr are playing mostly center field but could maybe one day make the move to right.
Overall Grade: B-
I wanted to give the Phillies a "C+" here because of the lack of talent at the position in the minor league pipeline but with a two-time All-Star like Pence holding down the fort and Brown possibly ready to take over if he leaves, there is enough in the majors right now to not worry about what the future holds.
Other Grades: