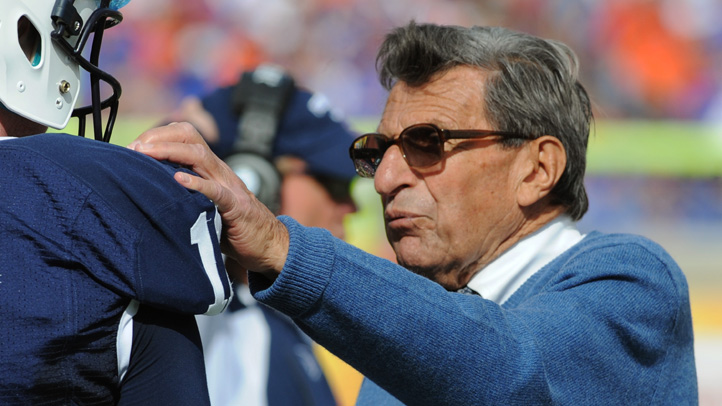 Penn State Football coach Joe Paterno has been nominated to receive the Presidential Medal of Freedom, the nation's highest civilian honor.
U.S. Senator Bob Casey (D-PA), U.S. Senator Pat Toomey (R-PA) and U.S. Representative Glenn Thompson (R-PA) sent a letter to President Obama on Wednesday citing Paterno's substantial contributions to collegiate athletics, higher education and American society. Rep. Thompson represents State College, where Penn State is located.
Coach Paterno's accomplishments on the football field are nothing short of legendary. During his 45-year tenure at Penn State, he has amassed 402 career wins – more than any other coach in Division I history," the members wrote in a letter to President Obama.
Paterno has been the coach of the Penn State Nittany Lions for 45 years.
"He has coached five undefeated teams, two national championship teams, won three Big Ten conference championships, and been named 'Coach Of The Year' five times by the American Football Coaches Association," the nomination letter boasted.
The Presidential Medal of Freedom honors individuals who make an especially meritorious contribution to the security or national interests of the United States, world peace, cultural or other significant public or private endeavors.
Here's the full text of the letter:
Dear Mr. President:

We are writing to request that you consider the Pennsylvania State University (Penn State) football coach Joe Paterno for the Presidential Medal of Freedom given his substantial contributions to collegiate athletics, higher education and American society.

Coach Paterno's accomplishments on the football field are nothing short of legendary. During his 45-year tenure at Penn State, he has amassed 402 career wins – more than any other coach in Division I history. He has coached five undefeated teams, two national championship teams, won three Big Ten conference championships, and been named "Coach Of The Year" five times by the American Football Coaches Association.

While these numbers are unrivaled, Coach Paterno's contributions to society off the field are even more noteworthy. His commitment to the success of student athletes under his guidance is abundantly clear. Under his tenure, Penn State's football team has had 16 Hall of Fame Scholar-Athletes, 47 Academic All-Americans, and 18 NCAA Postgraduate Scholarship winners – evidence of his dedication to helping his players excel in both athletic and academic endeavors.

Coach Paterno and his family have been incredibly generous, serving as the National Spokesman for the Charcot-Marie-Tooth Association, supporting the Special Olympics, and donating millions of dollars to the University for academic programs and libraries. It is common for a university to name a field of play after a coach that has contributed immensely to that institution's athletic program, but Coach Paterno's name has been added to a wing of Penn State's Pattee Library due to his immense contributions to academics at Penn State.

The Presidential Medal of Freedom has historically been awarded for meritorious contributions to the national interests of the United States. Coach Paterno's contributions exceed this standard by a considerable degree and we respectfully request that you provide him your utmost consideration for the award. It is not unprecedented to award this Presidential Medal of Freedom to collegiate coaches as both Paul "Bear" Bryant and John Wooden have been honored in the past. We believe it is important for Coach Paterno to share in this esteemed recognition.

Coach Paterno over the years has shown tremendous character and loyalty. Throughout his time at Penn State, he has remained committed to reaching goals without sacrificing the ideals that are central to higher education. His contributions to college athletics and higher education, as well as the content of his character, make Coach Joe Paterno deserving of the Presidential Medal of Freedom.

Thank you for your consideration of this matter.

Sincerely,

Robert P. Casey, Jr.
United States Senator

Pat Toomey
United States Senator

Glenn 'GT' Thompson
Member of Congress