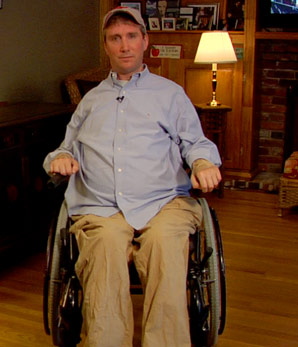 Back in 1988, college hockey player and diehard Phillies fan Chic Kelly was rendered a quadriplegic after hitting the boards in practice and breaking his neck. At the time of his accident, his college had an insurance policy in place that paid him $30,000 a year to pay his care, care he will need for the rest of his life. The problem: that insurance policy didn't account for future inflation, nor did it account for the massive increase in health care costs that are crippling families all across the nation. Now Kelly is begging the NCAA for help. The NCAA, as you might have guessed, isn't exactly warm to the idea. SI's Peter Richmond explains:


The $30,000 insurance policy pays for only a third of his home nursing care. His parents, now both 67, are out of work. His siblings have families of their own. He is asking for the $100,000 annually that the NCAA has given its catastrophic-injury victims since 1995…

I contacted Gail Dent in the NCAA Public and Media Relations Office asking to speak to Martin about the case. A few days later, she responded by e-mail…

"The NCAA started paying the premiums in 1992, however, we cannot retroactively change the benefits under a policy ... I'm not sure there is any additional information the NCAA can provide for your story."


It's that kind of robotic, passionless, bureaucratic response that causes most rational people to loathe the NCAA (and the health care industry in general, for that matter). Regardless of where you stand on American health care policy, and whether or not the government should fully support those with chronic disabilities, I think anyone can sympathize with Kelly's plight. It feels like insult added to injury, knowing you can't walk anymore and then going broke as a consequence. It's a fear I think all of us have in the back of our minds, of the worst thing ever happening and not knowing what on Earth to do if it did. Chic Kelly just wants to live out the rest of his life and root for his Phillies. But his future, at this point, is anything but certain.

HT: The 700 Level