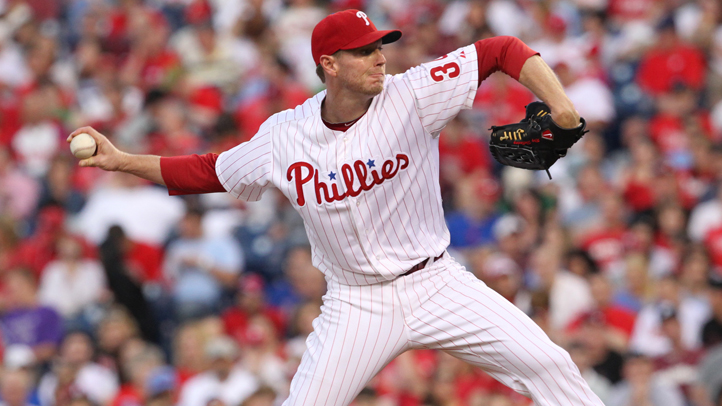 Edinson Volquez pitched six effective innings, pinch-hitter Jesus Guzman drove in the go-ahead run with a sacrifice fly and the San Diego Padres beat the Philadelphia Phillies and ace Roy Halladay for the second time this season, 2-1 Saturday night.

Volquez (2-2) escaped a few jams early in the game and then again in the fifth inning. The righty won his second straight start. He allowed one run and six hits, walked two and struck out five.

Halladay (3-3) is winless in his last five starts, the longest stretch in his Phillies career. His last win was at San Francisco on April 16.

The righty allowed two runs and seven hits in seven innings. He walked one and struck out a season-high 10. It was his 15th career double-digit strikeout game.

Cameron Maybin led off the top of the seventh with a double to right field and John Baker, who earlier in the night had snapped out of a 0-for-19 skid, singled to center.

Jason Bartlett, who also broke out of a 0-for-17 slump, struck out. Volquez was then lifted for Guzman. Halladay got Guzman to pop up in foul territory down the right-field line, but Maybin barely beat out Hunter Pence's strong throw to the plate, sliding past catcher Carlos Ruiz's tag.

The Padres snapped a two-game losing streak largely by capitalizing on Philadelphia's inability to score with runners in scoring position.

Luke Gregerson replaced Volquez and gave up a leadoff infield single to Juan Pierre. Jimmy Rollins sacrificed Pierre over to second but Gregerson's throw sailed over first baseman Yonder Alonso. With runners on first and second, Gregerson got Placido Polanco to ground out back to him for the first out. The Padres then elected to intentionally walk Shane Victorino, who had hit safely in his first three at-bats.

Manager Bud Black's strategy worked, as Pence then popped out to second baseman Orlando Hudson and Ty Wigginton hit into a fielder's choice.

Reliever Andrew Cashner, who fired a few pitches marked at 102 mph, pitched a scoreless eighth. The Phillies had another scoring opportunity in the ninth, but Dale Thayer retired Victorino and Pence with a runner on third for his third save in three chances this season.

Philadelphia has lost four of its last five games and six of nine.

Philadelphia's lone run came on light-hitting Freddy Galvis' double past an outstretched Alonso with one out in the bottom of the second inning, scoring John Mayberry Jr.

The Padres answered back on Bartlett's leadoff double in the third and he later scored on Will Venable's one-out, opposite-field double down the right-field line to tie it at 1. Halladay got James Darnell to fly out to left and struck out Chase Headley to end the inning.

The Phillies had their chances against Volquez in the fifth after he retired the first two batters. The right-hander gave up a single to Polanco and a double to Victorino before walking Pence to load the bases. And just like in the first when pitching coach Darren Balsley came out for a visit, Volquez retired Wigginton, this time on a fly out to center.