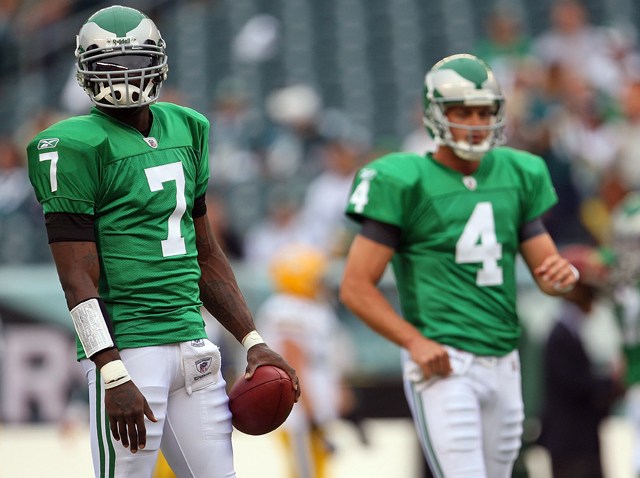 It's not a good week to be Kevin Kolb. Not only is the Eagles fourth-year passer still probably seeing the world through a strobe light since getting concussed, but his understudy outperformed him and now has the support of the Eagles fans who want Michael Vick to take his job.
And somehow, it gets even worse.

From ESPN Milwaukee comes word that players on the Packers defense were sad Kolb got knocked out of Sunday's game, forcing them to play against Vick.
"We said, 'What are you doing man?' We'd rather have (Kolb) in there," (Ryan) Pickett said with a laugh. "Vick, he's a headache for anybody who plays him. We came out (of college) together, and I think I've played him every other year and he's a headache to stop every year for a defense. He just showed he's back in form. But our defense answered the call…"

"(Vick) he changed (the game) a whole lot," (Cullen) Jenkins said. "You were almost wishing they put the other quarterback back in. Chasing him around is not fun at all."
This isn't quite as damning a collection of quotes as it seems. It sounds more like the Packers hated facing Vick simply because it meant they'd have to exert more physical effort, and not because Vick gave the Eagles a better chance to win (though it would appear he does). They just don't like running around so much. And who can blame them? Running isn't fun at all.

But then there's this quote, from Skins tight end Chris Cooley, who says trading Donovan McNabb was a galactically stupid move.
"This is one of the top 10 biggest bonehead trades in the history of the NFL."
There's still plenty of football left to be played to prove all the Kolb haters wrong. Still, it's never a great way to start the year when you've been knocked out, upstaged, and ridiculed by other teams around the league. They say Kolb is a tough fella. He better be, because this week is about as lousy as it gets.