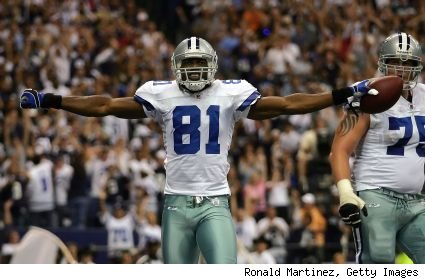 Terrell Owens, apparently, just can't help but be the bad guy and the closest thing in the NFL to a catty, 13-year-old girl.
Responding to a fan on Twitter who wished that the Cowboys had not cut "the player," Owens tweeted back, "neither ws i, blame the OC & romo!! but i'm happy 2 b where i am but i miss the other guys tht were & r true teammates!!"
Now, at my own peril, I'd like to dissect these remarks.
So, Terrell Owens blames the "OC," Jason Garrett. This is not a completely baseless claim. Any Cowboys fan has had complaints about the seeming repetitiveness of Dallas' offense and the seeming abandonment of the running game in some cases.
So, Terrell Owens wants to blame the quarterback for whom he got "Laguna Beach" teary-eyed over; this also is a fairly popular theory in the story of Terrell Owens' time as a Dallas Cowboy.
So, Terrell Owens misses the other guys, those that were "true teammates." There were certainly many of those, and they have been more than vocal since Owens' departure.
But the tone of Owens' remarks, basically, illustrates why he is not only an ex-Cowboy, but also a clueless pariah.
Owens will, in all likelihood, go into training camp full of pithy catch phrases and gushing compliments for his teammates.
Then, regardless of anything, Terrell Owens will, ineluctably, grow tired of (a) playing in a market a quarter of the size of Dallas, (b) not getting the ball quite enough or (c) not getting the lead on SportsCenter each night.
What happens after that is a loathsome storm of controversy, some real, some not.
But in any case, it is off of the Dallas Cowboys' hands.
The beauty of Owens' remarks is that they hold no weight whatsoever.
When Dallas opens up camp in San Antonio, there will be ample talk, and none of it will concern Terrell Owens.
As Dallas prepares for what should be a surprisingly impressive year, Owens will continue to talk, on and on.
But the way things are going now, Owens will continue to talk, and Cowboys' nation will slowly cease to listen.
It won't be hard. Owens' is so far up there in the northeast, I can barely hear him now.
You know, they say silence is golden.
Copyright FREEL - NBC Local Media