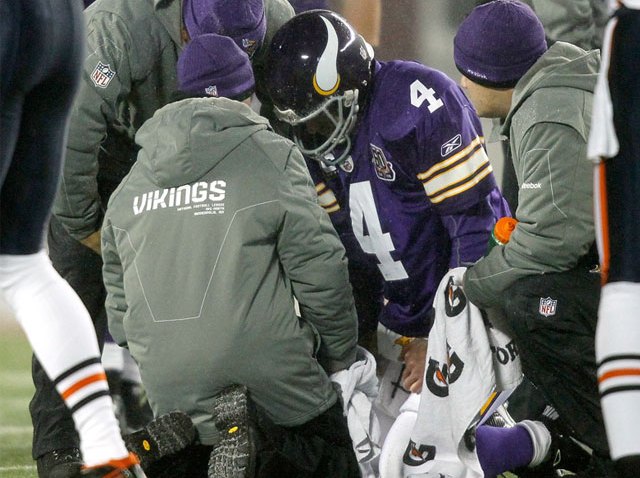 Every week during the season, we'll scout out the Eagles next opponent. This week, that opponent is the Minnesota Vikings.
The Opponent: The Minnesota Vikings, aka The Team That Isn't There.
Record: 5-9, 3rd in the NFC North.
The Line: Eagles by 14. And if Joe Webb is the starter, that line seems awfully conservative.
Last Game: A 40-14 pounding from the Bears at the University of Minnesota's stadium, where the Vikings were forced to play their final home game after the roof of the Metrodome collapsed. The Vikings -- outscored 60-17 in the past two games -- would likely happily let you play against the Eagles this week if it meant they didn't have to.
The Coach: Leslie Frazier. The interim coach was a hot commodity in coaching circles after the Vikings showed a bit of life for his first couple of games (beating Washington and Buffalo). But now the Vikings are in the tank and it's still not crystal clear if Frazier is worthy of coming back next year. I'd wager on his return.
The Offense: Brett Favre was concussed Monday against Chicago. If he starts this game, he may very well be the dumbest man to ever walk the face of the Earth. He's certainly the oldest. Adrian Peterson was a surprise scratch Monday night, and without him and Favre the Vikings became an offensive nonentity. Sidney Rice and Percy Harvin are dangerous on the outside, but that's if someone who is not Webb is throwing them the ball.
The Defense: Also tanking. Despite their reputation, this has been a lousy year for the Vikings' defensive line. And without CB Cedric Griffin, the secondary has also become a source of weakness. That should give DeSean Jackson plenty of chances to do something idiotic near the goal line.
Key Matchup: Michael Vick vs. E.J. Henderson. The Comeback Player of the Year, will be forced to shadow Vick at all times. One of Vick's greatest runs of all time came in overtime against the Vikings (watch it here). I see that happening more than a few times on Sunday. The Eagles win the East if they win this game.