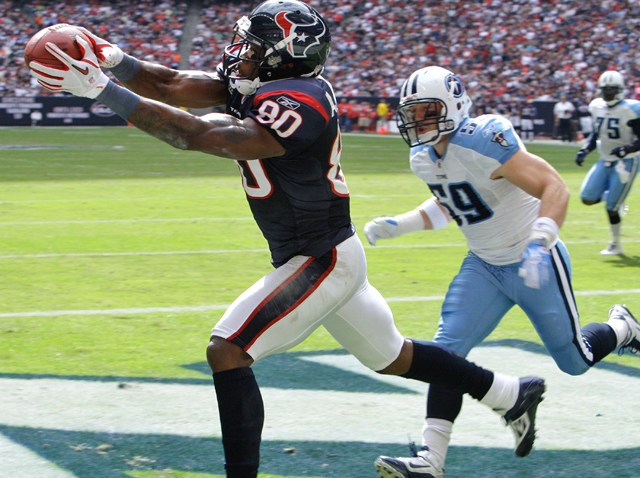 Every week during the season, we'll scout out the Eagles next opponent. This week, that opponent is the Houston Texans.

The Opponent: The Houston Texans, a.k.a. the Houston State Residents, a.k.a. the Houston People. I will never stop hating that team's generic nickname.

Record: 5-6. And only a game behind in the suddenly weak AFC South. Could the Texans rally to actually win this thing and secure their first playoff berth ever? NAH…

The Line: Eagles by nine. And oh my, isn't that a hefty line.

Last Game: A 20-0 woodshed beating of the sinking Titans, who were forced to start the immortal Rusty Smith. You, of course, remember this game because Andre Johnson and surly Irishman Cortland Finnegan got into a fistfight. But Johnson, sadly for you, wasn't suspended by the NFL for his part in the brawl. The Eagles were this close to getting a break from Roger Goodell. Alas.

The Coach: Gary Kubiak. I don't trust Kubiak because it appears he goes to great lengths to grease back his hair before every game. Oh, and because he's an awful coach. But the hair is really most distressing. It's like he's trying to channel Nick Saban.

The Offense: After getting torn apart by Jay Cutler, the Eagles now face an even more potent attack, with Matt Schaub tossing it deep to Johnson, who again was NOT suspended this week. Running back Arian Foster is the NFL's leading rusher and is also balling out of his mind when catching passes out of the backfield. Take the over? Yes, take the over. Take double the over.

The Defense: Until they had the good fortune of encountering Rusty, this was a historically bad pass defense. Now they're merely putrid, ranking second to last in the entire league. That's all Andy Reid needs to hear. Expect to see DeSean Jackson and Jeremy Maclin go very far down the field for most of the evening.

Key Match up: Your ears versus Joe Theismann. The good news for you guys is that that you only have to wait two more days for this game. The bad news? Yeah, I'd listen to the radio broadcast instead if I were you.