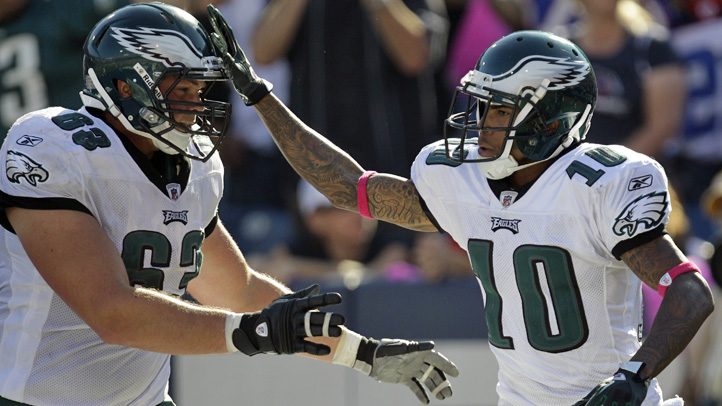 Every week during the season, we'll scout out the Eagles next opponent. This week, that opponent is the Washington Redskins.

The Opponent: The Washington Redskins, aka Dan Snyder Will Drunk Text You When He's Had Too Much Crown Royal

Record: 3-1

The Line: Eagles by 1.5. Yet another week with the "road favorite" yoke draped around their neck. FUN FACT: The Eagles have been favored in every game this season. Oof. You could make yourself quite a living betting against this outfit.

Last Game: A boring 17-10 win in St. Louis two weeks ago. The Skins were off last week, and had all the time in the world to think about the 59-28 loss they suffered at the hands of Michael Vick last season. Uh oh.

The Coach: Mike Shanahan. It only took Shanny one year to realize that your team can win games simply by not having Donovan McNabb or Al Haynesworth around. Not bad!

The Offense: Despite their division lead, the Redskins find themselves in the precarious position of winning games despite having a lousy quarterback. This is nothing personal against Rex "The Sex Cannon" Grossman, who pumps the ball downfield with the best of them. But Grossman has played progressively worse ever since beating the Giants in Week 1. He threw two picks against the Rams and failed to complete more than 52% of his passes. The good news for the Skins is that their running game picked up the slack, with Ryan Torain busting out for 135 and relegating Tim Hightower to bench duty. Expect lots of Torain on Sunday, until he has his annual broken ankle injury. The Skins throw out of the backfield a lot, and tight end Fred Davis has become Rexy's favorite target. It's a limited offense, one the Philly defense should be able to contain. If only they had their act together.

The Defense: Of all the free agent moves made this offseason, who would have guessed that the Redskins' signing of Barry Cofield would turn out to have the most impact? With Cofield anchoring the middle, the Skins are suddenly free to turn Brian Orakpo and Ryan Kerrigan loose on the ends, and they have made life miserable for opposing QBs. The beleaguered (love that word) Eagles o-line will have its hands full once again.

Key Matchup: Michael Vick's turnovers vs. Rex Grossman's turnovers. Both these QBs are having serious ball protection issues right now. The one that turns the ball over on Sunday will lose. Easy as that.