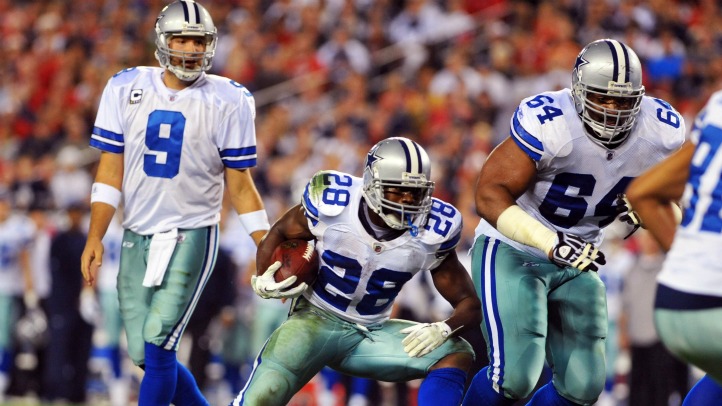 Every week during the season, we'll scout out the Eagles next opponent. This week, that opponent is the Dallas Cowboys.

The Opponent: The Dallas Cowboys, aka America's Chokers

Record: 8-6

The Line: Cowboys by 2.5. When BOTH teams are overrated, you get even money.

Last Game: A 31-15 beatdown of the reeling Bucs that served as a nice little oasis in what is otherwise a brutal month for Dallas. Felix Jones hung over 100 on Tampa's defense, and Tony Romo threw for three TD passes. But that's how Tony Romo operates: He looks his best when the stakes are lowest. Nothing about that game convinced me that Dallas has its act together.

The Coach: Jason Garrett. Isn't it nice to know that your opposing coach is just as incompetent when it comes to clock management as your own head coach? I feel like that helps ease the sting of seeing Andy Reid burn six timeouts before five minutes have elapsed in the first quarter.

The Offense: Jones has looked spectacular the past two weeks, but Felix has a knack for looking good for short bursts before heading back to the bench with a minor injury. Romo is having arguably his finest season, completing over 65% of his passes and throwing 29 TD passes against just 9 picks. Of course, those stats don't tell you the whole story now, do they? Who can forget those delightful choke jobs against the Jets, Cards, and Lions? Poor, poor Romo. Anyway, virtually every Cowboys fan I know is steeling themselves for a vintage Romo fourth quarter somewhere in these final two games.

Romo will be working with a full complement of wideouts that includes Dez Bryant, Miles Austin, and the ALIVE WITH PLEASURE Laurent Robinson, who has become Romo's most important target during this stretch run. It sounds weird, but taking away Robinson might be the key to the whole thing.

The Defense: This defense has been trick-or-treat all season long, alternating brilliant performances (vs. Buffalo) with inexplicable collapses (vs. the Giants). You never know which Cowboys defense is gonna show up. If it's the Cowboys defense from the last time these two teams met, I think you Eagles fans will be quite pleased.

Key Matchup: Shady McCoy vs. Andy Reid's play-calling. I cannot say it enough: When Shady gets more than 20 carries, the Eagles win. MAKE IT HAPPEN, FELLA.