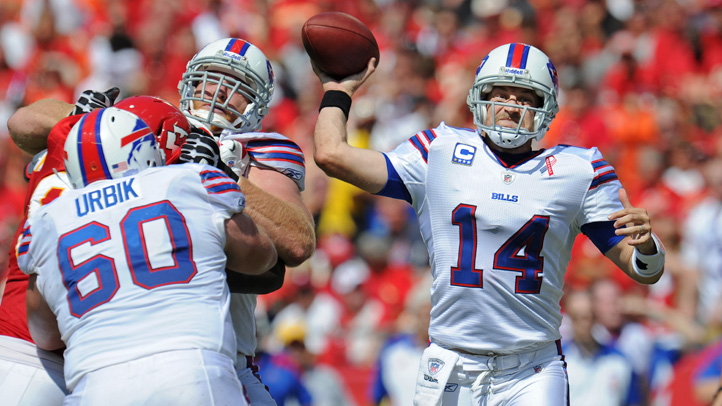 Every week during the season, we'll scout out the Eagles next opponent. This week, that opponent is the Buffalo Bills.

The Opponent: The Buffalo Bills, aka the Toronto Superargonauts (circa 2015)

Record: 3-1

The Line: Eagles by 2.5. And ain't that a B. You're 1-3, you go on the road to face a 3-1 team, and you get slapped with the dreaded road favorite tag. Unpleasant.

Last Game: A shocking 23-20 loss to the Bengals that ended the Bills three-game unbeaten streak and caused America to put all their Cinderella chips into Detroit's basket. The Bills blew a 17-3 lead in that game and got run over by Ced Benson. Everyone stops calling you "darling" when that happens.

The Coach: Chan Gailey. You thought Chan was a retread. Well he showed you, didn't he? Until he lost to the Bengals, and then he was kind of a retread again.

The Offense: Did you know Ryan Fitzpatrick went to Harvard? Expect to hear that tidbit 700 times on Sunday. Fitzmagic got stymied by the Bengals last week (no TD passes), but in the three games before that, he was lighting up the NFL. If Nnamdi Asomugha wants to justify his paycheck, he better blanket WR Stevie Johnson. The rest of the Bills receiving corps includes unheralded players like David Nelson. Donald Jones, and Scott Chandler. All of them have done damage this season, and the way the Eagles have played defense, they could inflict more pain on Sunday. But the Bills are almost certain to emphasize RB Fred Jackson. The Eagles have yet to prove they can stop the run this season, so Gailey will be more than happy to run Jackson until Philly can prove otherwise.

The Defense: The good news: you can abuse this secondary for yardage, as Bengals WR AJ Green did last week. The bad news: they're quite good at getting turnovers. And this Eagles outfit is good at giving the ball away, so... uh oh. The Eagles will move the ball against the Bills, but Mike Vick is going to have to refrain from forcing balls into coverage, and Ronnie Brown is gonna have to stop throwing laterals at the goal line. Perhaps Ronnie shouldn't be allowed on the field at all.

Key Matchup: Shawne Merriman vs. King Dunlap. Without LT Jason Peters for this game, the Eagles will count on Dunlap to protect Vick's frontside against the former Charger. Vick can't get hit as much as he already has been. He'll die. The Eagles' season hangs in the balance.