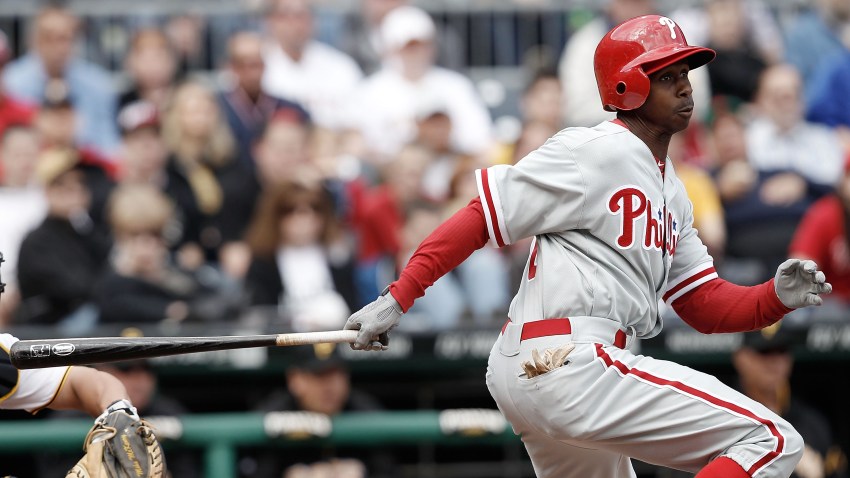 Coming into the 2012 season, the Phillies had quite a few questions when it came to their offense. Who would play second base? Who would play first? What about left?
Now, just ten games in, one of those questions appear to have been answered. Freddy Galvis, after needing 12 at-bats to get his first big league hit, has a modest six-game hitting streak going, and has made himself out to be a reliable enough hitter in the eight-hole that he at least gives the Phillies a chance to turn over the lineup. He's not a sure thing with the bat, but he's not an automatic out, and it looks like he is – for now – adjusting to Major League pitching.
As far as first base and left field is concerned, that's another story altogether. With two positions to fill, the Phillies have five players that have engaged in sort of a round robin to see who will be the last man standing.
At first base, Ty Wigginton is probably the best of the bunch, thanks to his experience at the corner bag, plus a bat that has enough power to make up for a lack of on-base skills (career .324 OBP). He's not making anyone forget about Ryan Howard, but he's ahead of Jim Thome (who can't field, and so far this season, can't hit), Laynce Nix (who is good enough with the glove, but is as unreliable a hitter as anyone) and John Mayberry (who is making 2011 look more and more like an aberration with each at bat).
While both Nix and Mayberry are taking turns in their platoon at first base, they are also competing for the left field job with Juan Pierre, who has been, at the very least, good enough. In eight games, Pierre has seven hits in 24 at-bats (.292 average), but no walks, no homers, and no extra base hits.
At first glance, Pierre looks to be leading the pack, as he should be counted on to make the fewest outs over the course of the season, but he has zero power, and is a suspect fielder with no arm strength. With him in the lineup, you'll get fewer strikeouts, and his speed can spell some trouble for opposing defenses, but that's about it. Conversely, both Mayberry and Nix have enough pop in their bats to be dangerous, and they are above average defenders, but they can't be trusted on to be reliable starters.
So, where does that leave the Phillies? Should Charlie Manuel continue to spin the wheel of chance and hope that he get some level of production out of those hitters, or, should he actually go ahead and solve the problem and call up Domonic Brown from Triple A Lehigh Valley?
By my count, this is my 25th post on Domonic Brown in the last six or so months, and for good reason. He's 24, he's a good hitter, and he's certainly more valuable than any left fielder currently under the Phillies employ. Sure, his defense is a tad suspect in left, but the team's greatest need is offense, and he has it in bunches over the combo of Pierre, Nix and Mayberry.
With Brown in the lineup, it allows the Phillies to better manage their resources by sticking with a four man platoon at first base, while also having a deeper bench and more options in the late innings, when pinch-hitters, pinch-runners, and defensive replacements are more likely to be called upon.
Second, and perhaps more importantly, it gives Domonic Brown a chance to finally play on a daily basis at the Major League level. Over the last two seasons, he's been juggled back and forth between the Phillies and the Iron Pigs, and he's never really had a chance to prove himself as an everyday player.
With a division that is increasingly hostile and competitive, and an offense that is lacking both Ryan Howard and Chase Utley, it would behoove the Phillies to get whatever offense they can, especially if they want to play baseball in October.