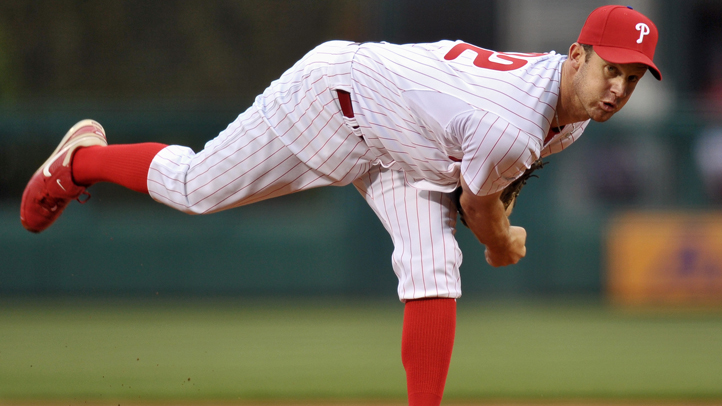 Back to back home runs by Brian Schneider and Ben Francisco gave the Phillies an early lead, and it would be all they needed as the Fightins hung on to win 3-0 over the Padres in the first of a four-game series Thursday night.

Roy Oswalt tossed six innings of one-hit ball, striking out seven on 106 pitches as he shut out the Padres and improved to 3-0 this season. Oswalt, who left Friday's game early with a lower back strain, seemed to have no problems at all picking up right where he left off as he dominated the mound in San Diego.

The Padres pegged him for a couple of drawn-out at-bats, which raised his pitch count significantly. Leading off the bottom of the fourth inning, Jorge Cantu went to battle with Oswalt in a 14-pitch at-bat. Cantu fouled off nine pitches, eight consecutively, before being struck out by Philly's third ace. Oswalt would go 1-2-3 in the inning, but did so on 23 pitches.

David Herndon, Antonio Bastardo and Jose Contreras picked up in relief to combine for the shut-out, allowing just one hit each. Bastardo and Contreras' ERA remains at 0.00.

Early in the game, the Phillies capitalized on the defensive errors by San Diego to put themselves on the board. The Padres bobbled three balls in the first half of the game, and Cameron Maybin found himself up against the wall as he tracked Francisco's home run ball. It should have been caught, but instead it snuck just over the center field wall for Francisco's third homer of the season.

Placido Polanco and Shane Victorino combined for three stolen bases. However, besides the stolen bags and the homers, the Phils did little else offensively. The team left a total of 12 runners on base and were just 1-for-9 with runners in scoring position. They were given a free pass as they were walked seven times in the game, but failed to generate any additional runs.

Insurance runs or not, the Phillies increased their winning streak at Petco Park to eight games in a row. They look to add one in the win column Friday night as Cole Hamels (1-1, 4.32 ERA) takes the mound against Clayton Richard (1-0, 4.50 ERA) for the second game of the series in San Diego.