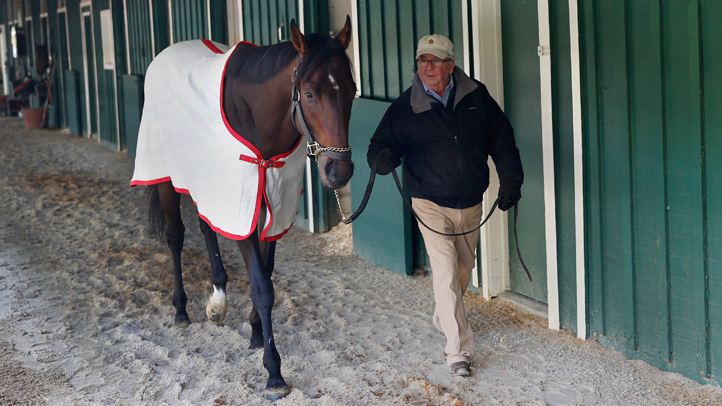 Shug McGaughey worked as a trainer for more than 30 years before finally saddling his first Kentucky Derby winner.
It was worth the wait.
Speaking at Pimlico Race Course, where he will seek to win the Preakness with Orb, the 62-year-old McGaughey said, "I always said I wish I won the Derby when I was young so I wouldn't have to worry about it anymore. I'm not sure that's true now. If I had won in '89 with Easy Goer, I don't know if I'd appreciate it as much as I did this past Saturday."
McGaughey and his horse have attracted much attention this week, for good reason. Coming off his solid win at Churchill Downs on May 4, Orb is in position to become the first Triple Crown winner since Affirmed in 1978.
With a victory, McGaughey can add a Preakness win to his suddenly blossoming resume. The last time he was a participant in the middle jewel of the Triple Crown, Easy Goer lost to Sunday Silence by a nose in 1989.
"As soon as I got here, it all came back to me — where I needed to be, where I was going," he said. "I feel like I'm back on familiar ground, and I'm tickled to death to be here."
McGaughey sent Orb to Baltimore from New York by van on Monday and was delighted to see his horse make a quick adjustment to his new surroundings.
"He had a lot of energy. I walked him a few turns and had to give him up," McGaughey said Tuesday. "So far, so good. I worried a little bit (Monday) coming down here. But I'm glad we got in here while it's still good and quiet and got settled in. He had a good night and a nice morning. Everything is good."
__
BAFFERT NEARS DECISION: It appears as if Hall of Fame trainer Bob Baffert will enter Govenor Charlie in the Preakness.
After the horse ran well over six furlongs on Monday at Churchill Downs, Baffert said Tuesday, "He came of his work really, really well. We are prepared to go."
Baffert is at home in California this week and has been receiving reports from Kentucky on the colt from his longtime assistant, Jimmy Barnes.
Govenor Charlie did not run in the Kentucky Derby because of a minor foot bruise that caused him to miss training time in April. The injury no longer appears to be an issue.
Baffert has until Wednesday morning to make a decision, but he said, "Unless he shows me something, it's pretty likely he'll be on that plane."
___
FIRST SINCE 1898?: The last time an African-American jockey won the Preakness was in 1898, when Willie Simms reached the finish line aboard Sly Fox.
Kevin Krigger has a chance to be the next, on Goldencents this Saturday.
"The media actually is paying more attention to it than I am because I really don't have time to worry about that," Krigger said. "I'm focused here on getting Goldencents in the Preakness winner's circle."
Krigger will be the first African-American to ride in the Preakness since Wayne Barnett, who finished eighth on Sparrowvon in 1985.