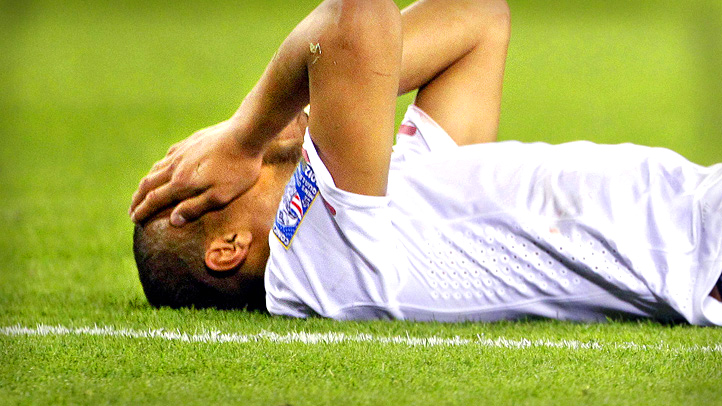 When the fluttering shot of El Salvador's Jamie Alas deflected off American goalkeeper Sean Johnson's hands in extra time, four years of preparation and dreams were extinguished like a moth to a flickering flame.

The U.S. soccer team would not be going to the 2012 Olympics in London.

But wait, not every team goes to the Olympics?

You'd naturally think that the best in every country square off in the Olympic games, but that's not the case. Every sport features its own maze that teams and individual athletes must navigate before they get to the big stage.

Men's soccer is no different. There are seven preliminary qualifying tournaments before the Olympics. Each qualifying tournament is different, but when it's over, 15 teams advance to Olympic competition, not including the host nation, which gains automatic access into the games. That means that more nations end up having their teams miss the cut than actually make it.

The teams that aren't Olympics-bound have nothing else to do but prepare for the next games.

"Since the team didn't qualify for the 2012 Olympics, we will not have any programming for the near future," said Neil Buethe, Senior Manager of Communications for U.S. Soccer. But given that this is the second time in three cycles the team has not qualified, Buethe says the team likely will use this time to assess how they could improve.

The road for individual athletes is even tougher. At the U.S. swimming qualifying trials in June, U.S. swimming officials estimate that they will have 1,700 potential Olympians vying for a spot on their men's and women's teams. At their max, each is allowed to carry 26, or two members per singles event. But thanks to athletes the likes of Michael Phelps, who can participate in numerous events, they carry even fewer.

Unlike a team sport like soccer, the coach has no say in who joins the team. It's all about speed. The International Olympic Committee and the International Federations provide a time that a country's performers have to meet and whoever makes the time goes to the Olympics.

Everyone else goes home.

"It doesn't matter what the person does in the past. They could be a world record holder, a national champion or a prior Olympic champion and it doesn't matter," said Lindsay Mintenko, the National Team Director of U.S. Swimming.

During trials, not even Phelps is safe. If someone posts a better time than him, he too, despite his notoriety and a Wheaties box with his name on it, could find himself watching the Olympics on television.

"It's all a part of the process," Mintenko said. "It can very easily happen. It's all about how you perform on that day. Everyone has to perform. It's anyone's ballgame once you get to trials. That's the neat thing."

The qualification process for sports such as rowing and fencing are even more difficult. International and World Cup results prior to the games are the only measuring stick that allows teams in those sports into the games.

According to the U.S. Olympic Committee, there are no "easier" ways to get into the Olympics. There is competition in every sport; with 204 National Olympic Committees around the world, working to pitch strong athletes in the competition, spots always fill up.

There are loopholes though.

"The easiest way is to not pick a sport, but pick a nation," Bill Mallon, co-founder of the International Olympic Historians Society and author of over two dozen books on the Olympics, said. "Athletes go to other nations to get into the Olympics."

On the 2008 Russian Women's Olympic basketball team that ended up with a bronze medal, U.S.-native and WNBA star Beckie Hammon played a pivotal role. In addition to being the team's starting point guard, she scored 22 points in the finale against China that helped get the team its medal. While she plays basketball in Russia during the offseason, she is a U.S. citizen. Not invited to try out for the U.S. team, Hammon found the Russian team was more than happy to have her.

In 2004, Greece was the host nation and had to pitch a team for every competition. Not known for their prowess in baseball, the team managed to score a variety of American-born former minor and major leaguers who claimed Greek-descent. Like Hammon, they weren't picked for competition by their native countries, so they went somewhere else to play.

"You even have sprinters from African countries being paid by Muslim nations to run, it's pretty common now," Mallon said. "U.S. athletes who weren't quite good enough to run for the country go and run for The Virgin Islands and other U.S. territories."

Mallon says that the IOC has a rule that a prospective athlete must live in the country they are playing with for at least three years to be eligible to perform for said country. That rule can be bypassed though if both countries agree to it.

Smaller countries that don't have athletic programs often find interesting ways of getting athletes into their camps as well.

"Every country is allowed to have at least one man and one woman representing them at the Olympics. It's usually a sprinter or sometimes a boxer," Mallon said. "So if you can compete for Laos or something, that's usually your best chance. It's not about picking a sport anymore. It happens a lot now."

But even those athletes that find ways to circumvent the process have gone through the pressure of qualifying for Olympic competition. It's just another way to get in.

"It's not easy," Mallon said.
You can watch the 2012 U.S. Olympic Team trials in ten different sports starting on April 22 on NBC and the NBC Sports Network, just follow this schedule.