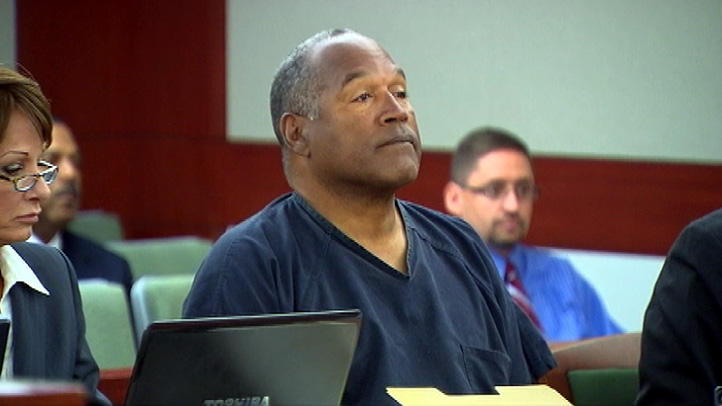 O.J. Simpson returned to a Las Vegas courtroom Monday in a bid for a new trial more than four years after his armed robbery and kidnapping conviction in a 2007 hotel room confrontation involving two sports memorabilia dealers.
Timeline: OJ Simpson's Legal History
Simpson wants a new trial because he says his longtime lawyer, Yale Galanter, failed to disclose that he knew about the hotel room raid in advance, told Simpson it was legal and provided bad advice at trial. The 65-year-old former NFL and USC star running back — he was handcuffed and wearing blue prison clothes when he walked into the courtroom Monday — is scheduled to testify Wednesday.

Simpson, who did not testify during the trial, received a prison sentence of nine to 33 years for the armed robbery and still maintains he was not aware two of the five men with him at the Palace Station hotel brought guns. The caper involved sports memorabilia dealers who Simpson thought had personal belongings he lost following his acquittal in 1995 in the slaying of his ex-wife Nicole Brown Simpson and her friend, Ronald Goldman.
Far from that "trial of the century" case, this week's proceedings are called a writ of habeas corpus, not a trial. Clark County District Court Judge Linda Marie Bell will hear five days of testimony beginning Monday on 19 separate claims of ineffective representation of counsel and conflict of interest.
Crowds at the courthouse Monday morning were small, unlike the 1995 murder trial in Los Angeles and the 2008 robbery and kidnapping trials.
The new challenge follows the Nevada Supreme Court's denial of Simpson's 2010 appeal, also handled by Galanter. Simpson's new attorney, Patricia Palm, filed the write of habeas corpus in May 2012, seeking her client's release from prison and reversal of the conviction.

Simpson's attorneys must prove that his trial lawyers botched the 2008 trial. If they can't, it's possible the former Heisman trophy winner and NFL Hall of Fame football player will spend the remainder of his life in prison. He has already served four years in prison, but must serve nine of the maximum 33-year sentence before he is eligible for parole.
Four Simpson co-defendants pleaded guilty to felonies and testified for the prosecution. A fifth defendant, Clarence "C.J.'' Stewart, was convicted and served more than two years in prison before the Nevada Supreme Court ruled that Simpson's fame tainted Stewart's conviction.

Stewart was granted a new trial but avoided retrial by pleading guilty to two felonies and was freed.
As for the sports memorabilia, a California Superior Court judge in 2009 ordered several items returned to Simpson. An attorney for the Goldman estate gets other items to auction.

Copyright AP - Associated Press